Uber has announced it is currently testing self-driving car technology with a view to completely remove the need for drivers from its ride-hailing service.
According to a statement by the company posted online yesterday, the initial testing phase is being conducted on the streets of Pittsburgh, using a hybrid Ford Fusion fitted with various sensors including radar, laser scanners and cameras.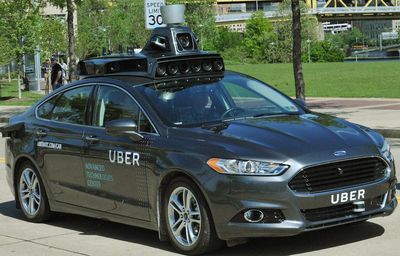 The test vehicle from Uber's Advanced Technologies Center (ATC) collects mapping data as it travels, while a trained driver monitors operations in the car at all times.
The driverless project is being carried out in partnership with Pittsburgh's Carnegie Mellon University. Uber says it is pursuing the goal of inducting autonomous vehicles into its fleet by 2020.

Real-world testing is critical to our efforts to develop self-driving technology. Self-driving cars have the potential to save millions of lives and improve quality of life for people around the world.  1.3 million people die every year in car accidents — 94% of those accidents involve human error. In the future we believe this technology will mean less congestion, more affordable and accessible transportation, and far fewer lives lost in car accidents. These goals are at the heart of Uber's mission to make transportation as reliable as running water — everywhere and for everyone.
Uber joins an accelerating industry race for the mainstream introduction of self-driving cars, with Tesla already developing the technology and multiple Chinese firms also making headway.
There have been indications suggesting Apple is exploring autonomous vehicles for its own car project, codenamed "Titan", but sources say the first car it releases will not be driverless, with that functionality perhaps coming at a later date.