Tesla CEO Expects No Apple Car Before 2020, Calls it 'Missed Opportunity'
Apple's rumored electric car is unlikely to hit full-scale production or be ready for shipping before 2020, according to Tesla CEO Elon Musk.
Musk offered his prediction to Walt Mossberg and Kara Swisher at the Code Conference, where he claimed that Apple's ambitions, while admirable, were falling behind in a fast-paced industry.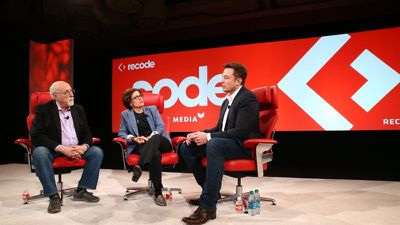 Tesla CEO Elon Musk interviewed yesterday at the Code Conference (Image: Asa Mathat)
"I think it's great they're doing this, and I hope it works out," said Musk. "It's just a missed opportunity. It's a couple years... they'll make a good car and be successful."
In September 2015, it was reported that Apple had spent more than a year investigating the feasibility of an Apple-branded car and given permission to leaders of the project, code-named Titan, to triple its 600-person team to facilitate development in anticipation of a possible shipping date in 2019.
Musk's comments suggest that the 2019 date might realistically indicate the point at which engineers confirm the main features of the product, and would seem to corroborate earlier rumors that fixed on a 2020 timeframe for the car's launch.
Q&A with Tesla CEO Elon Musk at the Code Conference.
During the wide-ranging Code Conference interview, Musk also claimed Tesla's
Model 3
would hit its prospective 2017 launch year, by which time his company aims to fulfill more than 325,000 pre-orders for its lower-priced model.
Musk said the car's design would be finished in about six weeks' time. "Almost all of the Model 3 design is done, and we're aiming for pencils down basically in six weeks, complete pencils down. And we're tabling — you know, if there are ideas for future cool things, we'll have it in version 2, version 3," he said.
Musk also expressed his doubts that Google will release a car, despite its years of testing self-driving electric vehicles, and instead he expects the company to license its technology out to existing automotive manufacturers.
The bulk of Apple's car research and development is thought to be taking place in secretive buildings in Sunnyvale, California, where late night "motor noises" have been heard.
You can watch the full interview with Tesla CEO Elon Musk.