Late Night 'Motor Noises' Heard From Apple-Leased Sunnyvale Campus
Loud "motor"-sounding noises are being heard at a Sunnyvale campus where Apple leases at least one building, reports AppleInsider, speculating that the sounds could be coming from a secret car testing facility. Apple occupies a single building in a 7-building campus at North Wolfe Road and Central Expressway in Sunnyvale, which it leased in 2014.
AppleInsider has previously suggested that in addition to its known offices at the location, where it conducts research and development, Apple is also operating under a shell company known as SixtyEight Research. SixtyEight Research is a mysterious "market research" operation that also leases one of the buildings on the campus, and given the lack of information available about the company, it could potentially be a front for the site where Apple works on its Apple Car.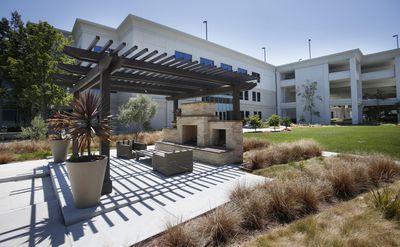 In recent months, a resident who lives near the 7-building campus has complained to the city of Sunnyvale about "motor" noises emanating from the area late at night. Major renovations undertaken by Apple have been underway at the site since last year, so it is unclear if the resident was simply hearing ongoing construction sounds.
"(Do) there have to (be) motor noises at 11:00 p.m. at night like last night?" the resident wrote to the city of Sunnyvale. "Even with the windows closed I could still hear it."
There continues to be no confirmed link between Apple and SixtyEight Research, or clear evidence that Apple is using the facility for its Apple Car development, but Apple has plans to build a 10-foot security fence around the area to hide its activity.
The rumored car being developed by Apple under the name "Project Titan" is still in the early stages, but Apple is said to have hundreds of employees working on the project. Over the past few months, Apple has hired dozens of new employees with expertise in the auto industry, poaching them from companies like Ford, Tesla, GM, and more.
Recently, "Project Titan" lead Steve Zadesky announced plans to leave the company, and Apple is said to have implemented a temporary hiring freeze ahead of his planned departure. Apple executives are also said to be unhappy with the progress being made on the Apple Car, so its future could be in question. Rumors have suggested Apple is aiming to have the final design of its car established by 2019 or 2020.