T-Mobile Unveils 'T-Mobile Tuesdays' Perks, Stock for Customers and Free In-Flight Wi-Fi
T-Mobile CEO John Legere today hosted an Un-carrier 11 event, where he announced T-Mobile's latest customer perks, which include a new app that offers weekly freebies, customer stock options, and free in-flight Wi-Fi on domestic flights.
T-Mobile is releasing a new T-Mobile Tuesdays app, available now, with freebies available every Tuesday. Starting tomorrow, T-Mobile customers can get perks like food, movie tickets, ride-sharing credits, and more. Some of T-Mobile's partners include Domino's Pizza and Wendy's.
Tomorrow, all T-Mobile customers will be able to get free frosties and a ticket to the upcoming movie
Warcraft
. T-Mobile Tuesdays will also include weekly giveaways for trips, with tomorrow's raffle consisting of a
Warcraft
viewing party with a party bus that can accommodate 40 friends. Extra rewards come from sharing on social networks.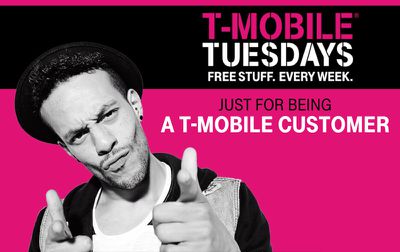 T-Mobile is also giving a share of T-Mobile stock to every primary account holder and customers who switch to T-Mobile from another carrier. For every customer who brings another customer to T-Mobile, T-Mobile will offer an additional share. Customers can receive up to 100 shares of T-Mobile stock per year. Customers who have been with T-Mobile for more than 5 years will get two shares of stock per referral.
Customers can claim their share starting tomorrow through the T-Mobile Tuesdays app, which will walk customers through the brokerage process.
T-Mobile's final announcement brings a full hour of free GoGo Wi-Fi to T-Mobile customers for every domestic flight they're on, allowing customers to use Google Hangouts, Viber, WhatsApp, and iMessage.
Over the course of the last two years, T-Mobile has aimed to disrupt traditional mobile service with its 11 "Un-carrier" initiatives.
The company began with uncoupling device costs from service costs in 2013, and then went on to offer several additional incentives to encourage customers to switch to the carrier, including paying early termination fees, offering a JUMP! upgrade plan, unlimited texting and 2G data in 100 countries, free streaming music from Spotify, Rdio, iTunes Radio, and Pandora, one week free trials to test the T-Mobile service, Wi-Fi calling, data rollovers, low-cost plans for businesses, and free "Binge-On" video and music streaming.