Thunderbolt Display Stock Limited at Apple Stores Ahead of WWDC
Thunderbolt Display stock is limited or unavailable at several Apple Stores in North America, Europe, Australia, and other regions ahead of new product announcements expected at WWDC 2016 in two weeks.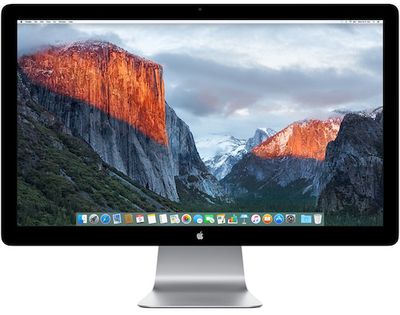 A spot check of Apple Stores in the U.S., for example, reveals that the Thunderbolt Display is available on a ship-to-store basis only at all or select locations in Albany, Buffalo, Columbus, Detroit, Indianapolis, Memphis, Minneapolis, Philadelphia, Phoenix, Pittsburgh, Raleigh, San Antonio, San Diego, Syracuse, and many other mid-sized cities and their surrounding areas.
Thunderbolt Displays do remain available in some major cities, including most stores in Chicago, Los Angeles, Miami, New York, and San Francisco.
Meanwhile, in Canada, the Thunderbolt Display is only available at more prominent store locations such as the Eaton Centre and Yorkdale in Toronto, Sainte-Catherine in Montréal, and the Pacific Centre in Vancouver. Thunderbolt Display stock in the U.K. is even more scarce, with Apple's web-based Personal Pickup tool showing that Regent Street is the only location with in-store stock within 100 miles of London.
A reliable retail source informed us that the Thunderbolt Display has been out of stock for a month at all central and surrounding London stores, while a tipster claims that the 27-inch monitor has been pulled from sale, with stock "returned to warehouse," at at least one U.K. retail store. A similar tip originating from Australia was received about Thunderbolt Display stock not being replenished.
With WWDC 2016 around the corner, limited in-store availability of the Thunderbolt Display will naturally stir speculation about a possible refresh to the standalone monitor. As always, however, the stock outage could simply amount to regular fluctuations within Apple's inventory channels, or Apple could be making room for ongoing store renovations. Rumors about a Thunderbolt Display refresh have slowed since late 2014.
AirPort Extreme and Time Capsule Wi-Fi base stations are also at least temporarily out of stock at many Apple Stores, although only at U.S. locations and possibly because of a recent firmware update or FCC compliance.
Apple began shipping the five-year-old Thunderbolt Display in September 2011. In terms of prospective updates, the 27" Retina 5K iMac could be the basis for a corresponding 5K Thunderbolt Display, which could feature the same 5,120×2,880 pixels resolution, USB-C ports for connecting Thunderbolt 3 peripherals, and possibly an ultra-thin design resembling the latest iMacs.
Only the late 2013 Mac Pro, late 2014 or newer 27" Retina 5K iMac, and mid 2015 15-inch MacBook Pro with AMD Radeon R9 M370X graphics are capable of driving 5K external displays, however, and each setup requires using two Thunderbolt cables per display. The lack of support is due to bandwidth limitations of the DisplayPort 1.2 and HDMI 1.4 specs on current Macs.
DisplayPort 1.3 has increased bandwidth, but Skylake-based Macs with Thunderbolt 3 will not support the spec and Intel's next-generation Kaby Lake processors on track for a late 2016 launch will not as well. Apple could opt to release a 4K Thunderbolt Display instead, but supply chain considerations make this unlikely, so the company's exact plans for the future of its standalone display remain to be seen.
Update: Apple is rumored to be working on a 5K external display with a dedicated graphics card, which would feasibly allow the display to be used with almost any Mac because it would be driven by an internal graphics card rather than the machine it is connected to. A future software update like OS X 10.12 would be required.
Apple could also elect to use Multi-Stream Transport (MST), a technology that stitches two halves of a display together to make a single seamless display in software. By using both of the DisplayPort 1.2 streams, forthcoming Macs with Thunderbolt 3 ports would be able to drive a 5K display over MST without the need for an external GPU.