Apple's 5K Thunderbolt Display Could Include Its Own Graphics Card
Thunderbolt Display stock shortages at some Apple retail stores have begun sparking speculation that a refresh is coming in the near future, and with current machines unable to run a 5K display over a single-stream cable, discussion has turned towards other methods Apple could use to introduce a functional 5K display.
Stephen Foskett and Daring Fireball's John Gruber speculate that Apple could potentially introduce a refreshed Thunderbolt Display with a built-in graphics card, which would result in a display able to work with almost any Mac because it would be driven by an internal graphics card rather than the machine it's connected to.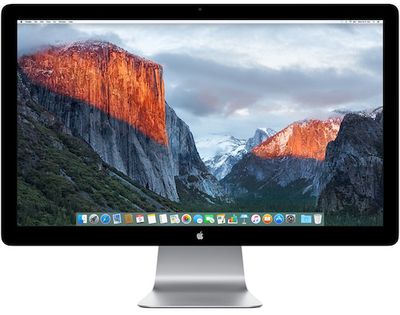 9to5Mac is floating a similar theory, claiming it's heard rumors Apple is indeed working on a 5120 x 2880 display that has an integrated GPU. Such a display would likely require the purchase of a newer machine with USB-C or Thunderbolt 3, but it would work with Apple's notebook lineup going forward.
A noted analyst doesn't believe Apple will go to the trouble of introducing a display with a built-in GPU, instead releasing a 5K display that will connect with newer Macs over Thunderbolt 3 by taking advantage of both DisplayPort 1.2 streams.
It's been believed Apple would wait to introduce a 5K display until DisplayPort 1.3 support is built into Intel processors as the standard will allow for plug-and-play support for 5K external displays, but by using both of the DisplayPort 1.2 streams, forthcoming machines that include Thunderbolt 3 ports will be able to drive a 5K display using Multi-Stream Transport without the need for an external GPU.
Multi-Stream Transport (MST) would stitch two halves of a display together to make a single seamless display, with each DisplayPort 1.2 connection driving half of the display, a technique Apple previously used in the first 5K iMac. The 5K iMac used the internal equivalent of a dual cable DisplayPort 1.2 MST setup.
Multi-Stream Transport is inferior to the Single-Stream Transport that would be possible with DisplayPort 1.3, but DisplayPort 1.3 support is not built into Skylake or its successor Kaby Lake, meaning it will be at least 18-24 months (the time until Intel's Cannonlake processors launch) before Apple can introduce machines powerful enough to drive a 5K display over a single-stream cable.
With the Thunderbolt Display having gone without an update since July of 2011, another two years is a long time to wait for a refreshed display.
There is no concrete word on when Apple will introduce a new Thunderbolt Display, but given the stock shortages and the rumblings that a successor is in the works, there is a possibility an announcement could be made at the Worldwide Developers Conference.