Apple Expands iPhone Trade Up Program to France, Italy, and Spain
Apple today expanded its "Trade Up with Installments" program for iPhone to France, Italy, and Spain, enabling customers to trade in an eligible older-generation iPhone, Android, or Windows Phone smartphone and put the value of that device towards a new iPhone based on a 24-month payment plan.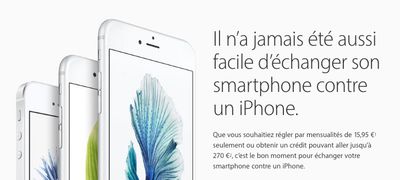 When a customer in Italy trades in a used 16GB iPhone 5s for a new 16GB iPhone SE, for example, an amount of €16.98 must be paid each month for the duration of the two-year installment plan. A total of €425.52 would be owed after interest rates are applied to the price. Exact prices vary depending on the combination.
The program is effectively a loan handled by Apple as an intermediary, so customers will need approved credit to qualify. The exact amounts paid may vary depending on the condition of the smartphone traded in. Apple's financing partners include Sofinco in France, Agos Ducato in Italy, and Cetelem in Spain.


"Trade Up with Installments" was heretofore exclusive to the U.S., where the program is financed by Citizens Bank with a 0% interest rate.
Apple recommends that customers speak to a Specialist at an Apple Retail Store for more details. The offer is not available online and is set to end on August 31, 2016 in France, Italy, and Spain. Apple's similar iPhone Upgrade Program remains exclusive to the U.S., so this program is a viable alternative for financing a new iPhone.
(Thanks, setteBIT!)