Apple Announces New 'Trade Up With Installments' 24-Month iPhone Payment Plan
Apple today announced a "Trade Up With Installments" payment plan that will let users trade in an old iPhone, Android, or Windows Phone and put the value of that device towards a new 24-month iPhone installment plan (via CNET). Available only in Apple Stores within the United States, the new program is a combination of Apple's classic reuse and recycle program and the newer 12-month iPhone Upgrade Program that launched alongside the iPhone 6s and iPhone 6s Plus last year.
According to Apple, Trade Up With Installments is "really geared toward people who have older generation iPhones." As with most trade-in programs, the older model of the phone that is traded in, the lesser its value. With Apple's new initiative, a new factor is thrown in depending on the model of iPhone that users are looking to pay off on the 24-month installment plan. So, for example, if someone were to trade in an iPhone 4 for a 16GB iPhone 5s and receive maximum trade in value, the monthly payment would be on the lower end, equating to $14.58/month.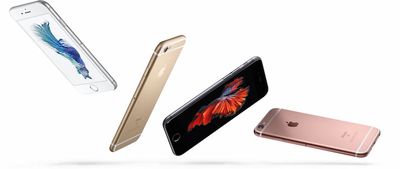 Using the same iPhone 4 to trade in for a 128GB iPhone 6s Plus would net a $35.37 monthly payment on the new program. AppleCare+ isn't included in these new plans, so users will have to pay extra if they seek the Apple iPhone insurance. Specifics weren't given regarding Android and Windows Phone value, but Apple ballparked their trade-in value to somewhere between $100 and $300, lining up with the monthly values of the iPhone 4, 4s, 5, 5c, 5s, and 6.

Whatever phone you purchase will be unlocked, which means you're not tied to a specific carrier (though you still have to sign up for wireless service for the iPhone). The maximum trade-in values are the same as for the regular trade-in program. That's $100 for the iPhone 4 and 4S; $200 for the 5, 5C and 5S; $300 for the 6; and $350 for the 6 Plus.

The amount doesn't change based on how much storage you have. You'll get as much for the 16GB version of an iPhone as for the 128GB, despite the fact jumping from 16GB to 128GB cost you $200 when you bought the phone. And the values are for phones with regular use, so don't worry if your device isn't in pristine condition. If you have a cracked screen or other damage, you won't get as much money.
Unlike the iPhone Upgrade Program that offers a monthly installment plan but lets you upgrade your device yearly with a trade-in of your old device, the Trade Up With Installment program requires the device to be completely paid off before it can be traded in for an upgrade.
For a full breakdown on the trade-in values of old devices and the cost of new installment plans, check out CNET's comparison chart.