Apple Named World's Most Valuable Brand Despite Recent Slowdown
Apple has been named the world's most valuable brand in 2016, according to the latest Forbes rankings, despite posting its first negative-growth quarter since 2003 with declining sales across its iPhone, iPad, and Mac product lines.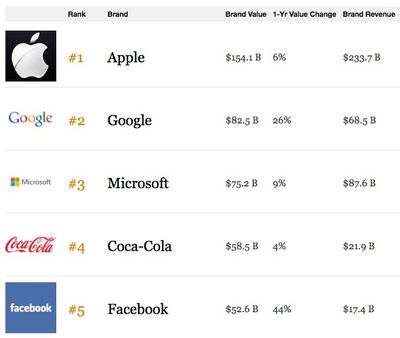 Apple's recent slowdown was not enough to prevent the company from securing the number one position in the list for the sixth consecutive year, ahead of rivals Google and Microsoft. Forbes placed Apple's brand value at $154.1 billion, up 6-percent from 2015 and nearly double Google's value of $82.5 billion.
Coca-Cola, Facebook, Toyota, IBM, Disney, McDonald's, GE, Samsung, Amazon, AT&T, BMW, and Cisco rounded out the top fifteen. Apple Watch fashion partner Hermès ranked 48th on the list. Other notable companies listed include Intel (17th), Verizon (21st), HP (38th), Sony (76th), Netflix (79th), and T-Mobile (93rd).
Apple remains the world's most valuable company with a market cap of over $510 billion, despite its stock being down around 30-percent from May 2015 highs. Google parent company Alphabet trails closely behind, and briefly surpassed Apple as the world's most valuable company in February.
Apple also topped Interbrand's most valuable brand list in 2013, 2014, and 2015.
Update: AAPL is down nearly 3 percent in trading today, resulting in Google parent company Alphabet's market cap once again briefly surpassing Apple's. The two companies will likely continue to trade positions until the volatility settles.