Apple Tops Coca-Cola, Google to Become World's Most Valuable Brand
According to a report from identity and brand consulting company Interbrand, Apple has overtaken Coca-Cola as the new most valuable brand in the world, knocking the beverage corporation from its 13-year tenure in the annual "Best Global Brands" survey, reports The New York Times.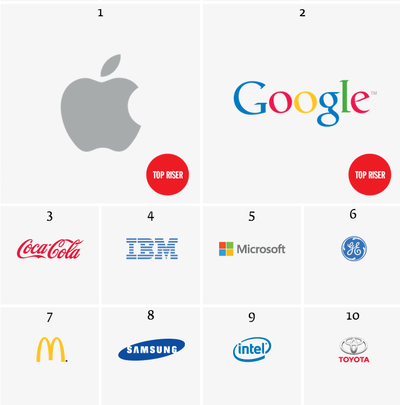 Every so often, a company changes our lives, not just with its products, but also with its ethos. This is why, following Coca-Cola's 13-year run at the top of Best Global Brands, Interbrand has a new #1—Apple. Few brands have enabled so many people to do so much so easily, which is why Apple has legions of adoring fans, as evidenced by the record-breaking launch of the iPhone 5c/5s. For revolutionizing the way we work, play, and communicate—and for mastering the ability to surprise and delight—Apple has set a high bar for aesthetics, simplicity, and ease of use that all other tech brands are now expected to match, and that Apple itself is expected to continually exceed.

From our perspective, Apple's internal brand strength has remained steady. CEO Tim Cook has assembled a solid team that is aligned around the Apple vision, which has allowed them to deliver against the promise time and time again. There's been a lot of change at the top in the last 12 months, but the alignment of both hardware and software design under Jonathan Ive is a major step toward maintaining focus. A shrewd move, perhaps, given the stiffer than ever competition over the last 12 months: Samsung is now the world's most profitable smartphone manufacturer, Google has expanded Android and its maps still seem to be the "preferred" route, and Windows Phone 8 certainly raised more than a few eyebrows.
The survey, which has been done since 2000, saw Apple come in at the second most valuable brand in the world in 2011, ahead of technology companies such as IBM, Google, and Microsoft. This year, Apple bested Google who is now the current runner-up to the most valuable brand in the world, and is also ahead of rival Samsung, which moved up to #8 from #9 in last year's survey.
Apple has made significant updates to much of its product line this year, including the recently released iPhone 5s and iPhone 5c, with the company announcing that it sold a record 9 million iPhones during the products' launch weekend. The company also claimed that 200 million iOS devices are running the new iOS 7 mobile operating system, making it the fastest software upgrade in history.