Apple Will Provide MLB Teams With iPad Pros for Dugout Use
Apple and Major League Baseball have agreed to a deal that will see the sports league's coaching staffs use iPad Pros in dugouts to make better use of data during games, according to The Wall Street Journal. Baseball managers and coaches have traditionally used notebooks, pieces of paper and binders to keep track of data.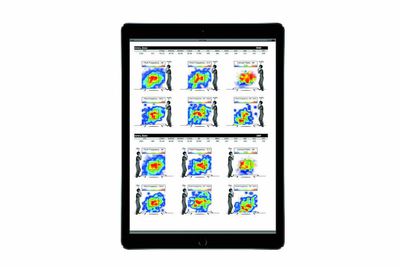 A pitch frequency chart in the MLB Dugout app
Teams will be able sift through performance stats from current and past seasons, weigh potential pitcher-hitter matchups, look at "spray charts" showing where a player is likely to hit a ball, even cue up videos of plays from previous games.
Each team will receive 12.9-inch iPad Pros with rugged cases sporting the team's logo. MLB's Advanced Media division, with assistance from Apple, have built an app called MLB Dugout, which will serve as the central destination where managers and coaches can look at their data. "We're not just replacing binders with tablets, we're actually helping them do things that weren't possible before," Phil Schiller, Apple SVP of marketing, told the WSJ.
For instance, players will now be able to watch video of pitchers during the game rather than having to retreat to the locker room. New York Mets' third-base coach Tim Teufel noted that the app will likely come in handy when the "game changes in unexpected ways," like when a pinch hitter steps up to the plate or a relief pitcher subs in.
The Dugout app will serve up proprietary data for each franchise, which means each team will only draw upon their own data rather than league-wide data well. The app will be preloaded before each game, but the MLB eventually hopes to update the app so that data could be provided in real time. The app was tested during the postseason last year.
The deal is similar to the one Microsoft signed with the NFL, putting Microsoft Surface tablets in the hands of NFL coaches and players on the sidelines. That deal was initially marred by glitchy tablets and announcers repeatedly calling the devices "iPads" rather than Surfaces. While the NFL required that the Surface tablets be shown on the sideline during each game, the MLB is making iPad Pro use optional. However, MLB commissioner Rob Manfred said he thinks most teams will use them, saying that he hopes they'll help speed up the game.
The MLB has embraced Apple's technology before, adopting iBeacon technology in 2014 and outfitting 20 ballparks in time for that season.