iBeacons Ready to Go at Major League Baseball Parks in Los Angeles and San Diego
Just two weeks after MacRumors reported that Major League Baseball was working to install iBeacons in 20 ballparks in time for the start of the 2014 season, home fields for the Los Angeles Dodgers and San Diego Padres are already outfitted with the Bluetooth transmitters, according to Re/code. MLB reportedly remains on track with the remainder of its rollout.
The installation of 65 iBeacons at Dodger Stadium, home of the Los Angeles Dodgers, and San Diego's Petco Park, home of the Padres, will be followed by similar work at more than a dozen and a half other MLB stadiums, the league said. The plan is to have more than 20 ballparks in total equipped with the technology by Opening Day in late March.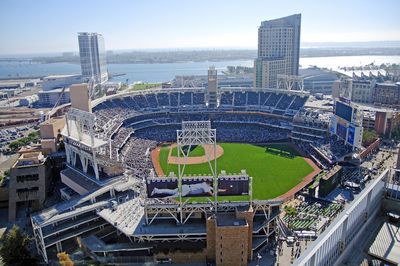 As previously outlined, MLB's iBeacon initiative will allow iPhone users to receive location-specific alerts within ballparks via the existing
At The Ballpark
app. MLB has yet to detail exactly what kind of alerts will be enabled through the iBeacon system, but the system could be integrated with loyalty programs to offer discounts on concessions and fan gear, help visitors find their seats, or to activate supplemental content such as video clips when users are near commemorative plaques and statues.
Apple is looking to iBeacons as a way to enhance the visitor experience in stores, sporting arenas, and cultural venues, demonstrating the technology with a significant rollout at its own retail stores in the United States. While Apple has promoted the concept of iBeacons by building support for the technology into iOS 7, it is also a broader technology based on Bluetooth LE, with transmitters being developed by a number of different companies.
Following a two-game set between the Dodgers and Arizona Diamondbacks in Sydney, Australia on March 22-23, the Major League Baseball regular season moves into high gear beginning on the evening of March 30 with a matchup in San Diego between the Dodgers and Padres, the two teams whose home stadiums already have their iBeacon systems up and running.