Review Roundup: 9.7" iPad Pro is a 'Powerful' Laptop Replacement for Casual Users
Apple last week announced the new 9.7-inch iPad Pro, which marketing chief Phil Schiller described as the "ultimate upgrade" for both existing iPad and Windows PC users. Nearly one week later, a number of in-depth reviews have surfaced that offer a closer look at the new tablet beyond last week's first impressions and hands-on articles.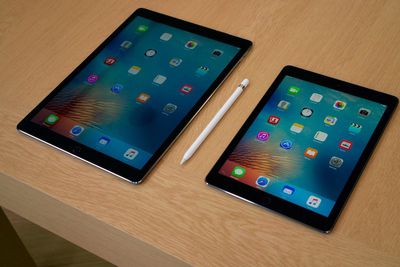 Apple's new 9.7" iPad Pro, right, next to the 12.9" version (Image: Ars Technica)
The general consensus among early reviews is that the smaller iPad Pro has powerful hardware, but like its 12.9-inch sibling, opinions were mixed about whether the tablet can truly replace your laptop. From $599, the 9.7-inch iPad Pro is certainly a more affordable Mac or PC alternative over the 12.9-inch iPad Pro, which starts at $799.
Andrew Cunningham for Ars Technica:
When I reviewed the 12.9-inch iPad Pro, I said that I was having trouble envisioning the type of user who would choose it over a "real" computer like a MacBook Air or Pro. I still feel the same way today. The full-size Pro is large enough and expensive enough that you could buy any number of high-end Macs or Windows PCs for the same price, and you wouldn't have to put up with the potentially frustrating limitations of iOS. […]

The equation is a little different for the 9.7-inch iPad Pro, which is both smaller and cheaper. […] At $599 (plus the cost of accessories), this tablet is competing more against midrange Windows PCs, and it's substantially cheaper than any MacBook that Apple offers. For many active but less-demanding users, the strength of the hardware and the relative simplicity of the software could be enough to recommend it, though for the time being there are things that regular old Windows PCs are just better at than iOS is (including running legacy apps and connecting to just about anything that needs a standard USB port). It really depends on how you work and what you need to do. […]

If you've already got an iPad and are looking for a newer one, the math is a little simpler. If you have an iPad 2, the third- or fourth-generation Retina iPads, or the original iPad Air and you find yourself using your iPad more often than whatever other computer you have in your house, the iPad Pro is a no-brainer upgrade.
Lance Ulanoff for
Mashable
:
The best flagship iPad you can buy is now the 9.7-inch iPad Pro. […]

It's kind of mind-blowing how much power there is in this lightweight tablet.

Benchmark numbers are just as good as the ones I saw on the 12.9-inch iPad Pro, despite the fact that the 9.7-inch iPad Pro has half as much RAM (2GB versus 4 GB on the 12.9-inch iPad Pro). […]

Did Apple just raise the price of the best iPad? Yes, it did. Is it worth it? When you consider the components and storage in the $599, 9.7-inch iPad Pro, absolutely.
David Phelan for The Independent:
The new Pro also has a keyboard to go with it, attached by the Smart Connector buttons on the tablet's edge. […]

And it turns the iPad Pro into an extremely effective laptop alternative, complete with touchscreen, unlike Apple's own laptops. In fact, the touchscreen works so well with the iPad Pro and keyboard, it's hard to think Apple isn't considering making a MacBook with touch-sensitive display. We'll see. […]

But the real reason this is the best iPad yet built is because it combines a stunning display, stonking audio and relentless processing power into a tablet that's supremely portable.
Rene Ritchie for
iMore
:
This can still be your everyday iPad, and better so than ever, but it can also be your ultra-mobile productivity machine, with little in the way of compromises. Sure, you lose some display and keyboard real estate, but you gain portability and an excellent camera system.

For people who've had a 9.7-inch iPad for a while but haven't seen a need to upgrade, and for those with aging Windows system looking for a modern alternative, the 9.7-inch iPad Pro will be compelling.

The new 9.7-inch iPad Pro has been available to order since March 24, with shipments beginning on March 31.