Apple is believed to have sold over over 1.07 million Apple Watches in China, according to data analysis company TalkingData (via Business Insider). The company uses a monitoring platform supported by over 80,000 mobile apps -- including the country's most popular app WeChat, with over 1 billion registered users -- to receive its data.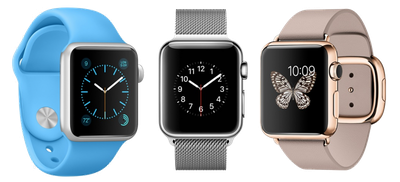 Many remain curious as to how many Apple Watches the company has sold specifically, but Apple continues to remain firm on not assigning a tangible number to the sales figures of its new wearable device. After a few weeks of speculation, in July CEO Tim Cook gave the closest hint to the success of the Apple Watch, stating that its sales had "exceeded expectations" at the company.
Also of note today is a new report from Japan Display Inc. CEO Mitsuru Homma, who stated that the display manufacturer's "biggest client" is ramping up orders ahead of an upcoming launch for the unnamed company's newest smartphone (via Reuters). JPI has been known to work with Apple in the past, and was reported earlier in the year to be seeking a partnership with the Cupertino company in becoming its go-to manufacturer for iPhone screens with a $1.7 billion display plant.

Mitsuru Homma, who was appointed CEO in June, said weakness in China's smartphone market, the world's biggest, amid that country's broader economic slowdown was not affecting the orders for display screens it was getting from its top client.

"They're coming to us with more orders, saying 'give us more, give us more'. They keep increasing," he told Reuters in an interview.
Homma fielded questions about "difficult technology" causing production stalls in the manufacturing process -- most likely this year's inclusion of Force Touch -- but he still believes that "ramp-up is going well." The big reveal of the "iPhone 6s" and "iPhone 6s Plus" is just under a week away on September 9. The latest rumors point to a slightly thicker and larger "S" generation device, with the possibility of Apple Watch-like motion wallpapers and a slightly overhauled iOS thanks to the addition of Force Touch.