Apple Responds to CVS/Rite Aid Controversy: 'Overwhelmingly Positive' Response, Working to Add Merchants
Last week, news surfaced that popular drugstore Rite Aid was disabling support for NFC and Apple Pay in its retail stores and over the weekend, CVS followed in its footsteps. Apple has now commented on the situation, telling Business Insider that it's working to get as many merchants on board with Apple Pay as it can.
The feedback we are getting from customers and retailers about Apple Pay is overwhelmingly positive and enthusiastic. We are working to get as many merchants as possible to support this convenient, secure and private payment option for consumers. Many retailers have already seen the benefits and are delighting their customers at over 220,000 locations.
Both CVS and Rite Aid are members of Merchant Customer Exchange or MCX, a team of retailers that are designing their own payments system to compete with Apple Pay.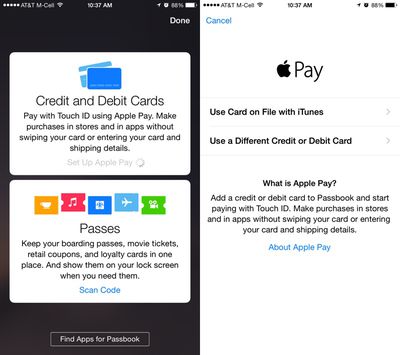 Headed up by Walmart, which has also publicly stated that it won't be supporting Apple Pay, MCX is composed of several different retail outlets and restaurants, including Best Buy, Lowe's, Old Navy, Southwest, Target, 7 Eleven, Dunkin Donuts, Hobby Lobby, and more.
MCX's payment solution, CurrentC, is currently in testing in Minnesota and takes a decidedly different approach to mobile payments. CurrentC does not use NFC, instead basing payments around the scanning of QR codes with a smartphone camera. CurrentC is highly beneficial to merchants, but appears to be of questionable value to customers given that it requires both a social security number and a driver's license number, along with access to a bank account.
Despite only being available in Minnesota at the time being, MCX's CurrentC app has received hundreds of negative reviews from Apple Pay supporters. Android and iOS users on reddit have also teamed up to call for a boycott on all MCX partners, as disabling NFC support to prevent Apple Pay purchases also disables Android-based payment solutions like Google Wallet.
Though quite a few big name retailers have opted out of Apple Pay, Apple has signed on with several major partners including Macy's, Chevron, Disney, McDonald's, Nike, Petco, Whole Foods, and more. Apple Pay is accepted at the retail stores of any of its partners, and at any store that accepts NFC payments.
Update 6:55 PM PT: Walmart, one of the major retailers behind MCX, has given Business Insider a statement on why it has opted not to accept Apple Pay, stating that it believes merchants are in the "best position" to create a mobile payment service for consumers.
There are certainly a lot of compelling technologies being developed, which is great for the mobile-commerce industry as a whole. Ultimately, what matters is that consumers have a payment option that is widely accepted, secure and developed with their best interests in mind. MCX member merchants already collectively serve a majority of Americans every day. MCX's members believe merchants are in the best position to provide a mobile solution because of their deep insights into their customers' shopping and buying experiences.