Rite Aid Disables Apple Pay Support After Initially Accepting Payments
A growing number of Apple Pay users are angry with retailer Rite Aid following the reported disabling of the mobile payment service within the past 24 hours. Apple Pay should technically be compatible with any point-of-sale systems supporting NFC technology, but customers who made successful Apple Pay payments earlier this week have found their payments were being denied yesterday and today.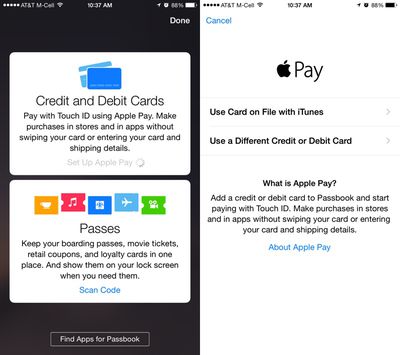 Among the disgruntled users was Josh Hudnall, who shared his experiences and his conclusions that Rite Aid is deliberately crippling its payment systems to prevent Apple Pay transactions.
Today, Allison asked me to pick up a few things on my way home from the office, and I'm a major nerd, so naturally I was all too happy to oblige. I was equally disappointed, then, when my transaction was declined with a message on the terminal informing me that Apple Pay was not supported. The terminal mentioned Apple Pay by name. So the system is smart enough to know about Apple Pay and to decide not to take it.
Hudnall spoke to an associate who claims Rite Aid recently sent an email informing stores that the retailer is not accepting Apple Pay payments, and Hudnall speculates it is because Rite Aid is a supporter of the upcoming CurrentC payments system from Merchant Customer Exchange. Competitor Walgreens is also one of Apple's biggest launch partners for Apple Pay.
According to Twitter reports, the retailer also unexpectedly turned off support for Google Wallet at the same time. Rite Aid has not confirmed the shut down of these services, nor commented publicly on these reports.

Apple Pay
launched
earlier this week in a debut that was relatively smooth for most customers. As
demoed
in a McDonald's transaction, payments are processed almost instantly at supported terminals with the press of the Touch ID sensor on the phone.
The most publicized hiccup occurred with Bank of America customers, who were accidentally charged twice for their purchases. Bank of America confirmed that the issue only affected a small number of users who will receive refunds.