Apple Ceases Selling Nest Products Online and In Stores
Apple has stopped selling the Nest Learning Thermostat and the Nest Smoke Alarm in its stores and has confirmed to Mashable that it will no longer be carrying Nest products. The Nest thermostat was still available online earlier this month, but a search for the Nest thermostat or smoke alarm now redirects customers to other HomeKit products.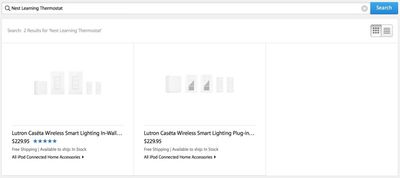 Apple's decision to stop offering Google's Nest products in its retail stores and online comes just over a month after the first HomeKit-compatible products became available for purchase. In early June, Lutron, iHome, Elgato, Ecobee, and Insteon began offering a range of smart lights, plugs, thermostats, room monitors, and more, all of which work with HomeKit.
The HomeKit-compatible Ecobee3 smart thermostat is a direct competitor of the Nest, so it's no surprise Apple has opted to stop offering Google's products in order to highlight accessories that are compatible with its own smart home platform.
This isn't the first time Apple has stopped offering products that directly compete with its own product offerings. Last year, the company stopped selling Fitbit activity tracking devices ahead of the launch of the Apple Watch and also culled several other activity trackers from its store earlier this year.
Apple's decision to stop selling the Nest thermostat comes as the company is working to revamp accessory lineups in its retail stores, cutting back on the number of accessories offered and packaging many of them in boxes that match its own design aesthetic.