Apple Follows Through With Plans to Stop Selling Fitbit Devices
Last month, news surfaced of Apple's plans to cease selling Fitbit's line of activity tracking devices in its stores, and as of today, it appears the company has followed through with that decision. All Fitbit products have now been removed from the online Apple Store and Apple has begun removing the devices from its retail stores as well.
Apple previously sold both the Fitbit Flex, Fitbit's activity tracking band, and the Fitbit One, a standalone tracker that could be clipped to clothing, for $99.95. It is not known why Apple opted to remove Fitbit's products from its online stores, but the decision follows Fitbit's announcement that it had no plans to integrate with Apple HealthKit, as it is "working on other exciting projects" for Fitbit users.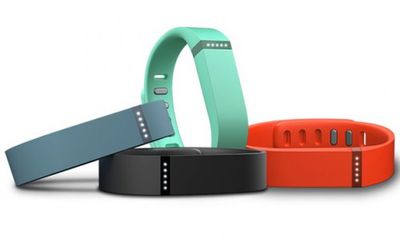 Fitbit's activity trackers are similar in function to Apple's upcoming Apple Watch, offering users the ability to track steps taken, distance traveled, calories burned, stairs climbed, and more. Last week, Fitbit announced a new Surge "Fitness Super Watch" that also includes GPS functionality and a heart rate monitor, bringing its tracking capabilities even more in line with the Apple Watch.
Though Fitbit devices have been removed from Apple Stores, Apple is continuing to sell other fitness tracking products, including the UP from Jawbone and the Nike Fuelband. Jawbone recently introduced the UP3, its most recent fitness tracking device that includes skin and ambient temperature sensors along with a heart rate monitor. It is unclear whether Apple will continue to sell these devices as the launch of the Apple Watch approaches or if the ban is limited to Fitbit.
Fitbit's activity trackers are not the first products that Apple has removed from its stores in recent weeks. Earlier in October, Apple removed Bose audio products from its stores, no longer offering the headphones online or in retail locations.