Apple Retail Stores to Offer Third-Party Accessories in New Apple-Style Packaging
Apple is planning to introduce new co-designed packaging for many of the third-party accessories that it sells in its stores, according to retail store information shared by 9to5Mac. Apple has reportedly been working with several third-party accessory manufacturers on packaging design, helping to create a new look for boxes to better fit in with the packaging that's used for Apple's own products.
Companies participating in Apple's revamped packaging efforts include Tech21, Sena, Incase, Mophie, Logitech, and Life Proof. When these products are sold in Apple Stores, they'll be sold with simple, no-frills white boxes with minimal labeling as seen in photos.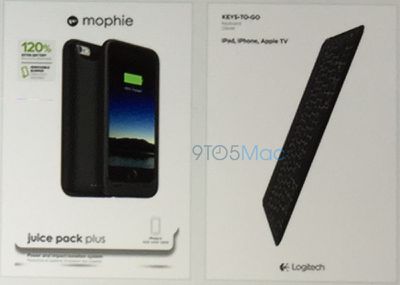 According to the memo, the packaging will be mostly white to match the Mac, iPhone, and Apple Watch boxes, while they will also include simpler fonts, new photography, higher-quality materials, and more consistent compatibility labeling. This shift is yet another in a string for third-parties that has included new environmental guidelines and a ban on leveraging early iPhone leaks.
Apple's new head of retail, Angela Ahrendts, has been working to revamp the Apple Store experience in recent months, streamlining the purchasing process and reimagining both product discovery and customer-employee interactions. The packaging redesign is part of a larger effort to overhaul Apple's in-store accessory lineup, limiting the number of products that are sold for a more refined look.
News of the revamped packaging was first shared by Mac Otakara [Google Translate] in June, and a sneak preview of what the accessory sections of Apple's retail stores might look like can be seen at the company's Upper East Side store in New York.

Apple's Upper East Side store, image via Mark Lennihan, Associated Press


Apple Store accessory sections are expected to begin seeing changes starting next week, which is when the new packaging will be introduced.