Apple May Be Producing Exclusive Apple Music Content In-House
Earlier today Apple Music exclusively debuted a new music video from Drake, titled "Energy" from his latest album "If You're Reading This It's Too Late". Previously, Apple has exclusively debuted the music videos for Pharrell's "Freedom" and Eminem's "Phenomenal". These music videos may be developed in-house at Apple, reports Pitchfork.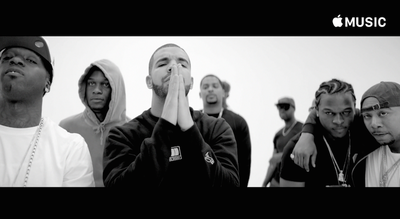 The launch of Apple Music hasn't only included a new radio station, social network, and streaming service. Apple have also started creating their own original content. The company made Drake's amazing "Energy" video in-house, as well as Pharrell's "Freedom" and Eminem's "Phenomenal". Next up: M.I.A.'s "Matahdatah Scroll 01 Broader Than a Border", coming to Apple Music on Monday, July 13.
In addition to M.I.A.'s forthcoming music video, Pitchfork, which is an Apple Music Curation Partner, says rumors indicate that Apple Music has projects in the works with artists like Purity Ring, Diddy and James Bay. However, M.I.A.'s music video has been in the works since before May, when the artist insinuated that her label was holding up her "Matahdatah" music video because of potential controversy around its cultural appropriation of African culture.
Pitchfork claims that when they reached out to Larry Jackson, Apple Music's head of content, for comment he responded with a tweet consisting of a dig at Spotify CEO Daniel Elk's "Oh ok" tweet when Apple Music was announced in addition to the hashtags "Content", "Curation", "Culture" and a link to Drake's music video on Apple Music.
Apple has been trying to secure exclusive content for its new streaming service in an effort to lure customers away from rival services like Spotify and Tidal. That effort continues with Drake, who today announced he'll have a radio show on Beats 1 that'll start on Saturday, July 11 at 6 PM EST.