Apple Rumored to Build High-Speed Network for Faster Cloud Services
Apple is building a high-speed content delivery network and plans to upgrade its data centers with more of its own equipment in an effort to better compete with Amazon, Google, Microsoft and other cloud service providers, according to Bloomberg. The improved infrastructure will enable Apple to provide faster delivery of cloud-based content and services such as iCloud, iTunes and Siri.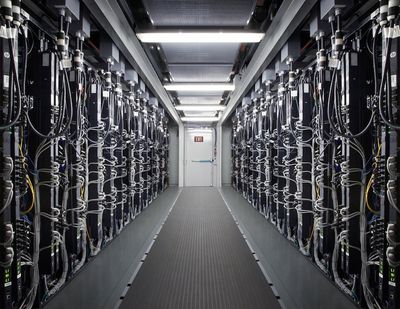 The high-speed network may be a prerequisite for Apple's much-rumored streaming music and TV services, the first of which is expected to be announced at Apple's annual Worldwide Developers Conference today in San Francisco. Efficient content delivery will be important for both services, especially if the company plans to fulfill its ambitious goal of signing up 100 million subscribers for Apple Music.
The foundation of Apple's high-speed data network will reportedly be long-haul pipes connecting the company's data centers in California, Nevada, North Carolina and Oregon. Apple has also been planning ways to send data via fiber lines at hundreds of gigabits per second, as opposed to solely using off-the-shelf technology rented from third-party vendors, according to the report.
"Apple wants to own pipes linking its four large U.S. data centers and Internet hubs in certain cities to ensure fast, reliable delivery of content and services. By adding capacity and increasing efficiency, it seeks to handle more traffic on its own, without renting as much server space from cloud providers such as Amazon and Microsoft, said people with knowledge of the plan, who asked not to be identified because Apple isn't discussing the moves publicly. They declined to name the cities involved."
Apple will not move away from using Hewlett-Packard servers, Cisco ethernet switches and other off-the-shelf technology entirely, but the iPhone maker has been in talks with companies that could help design its own equipment that would be produced by third-party manufacturers. The new gear would mainly be used in Apple's future data centers in Arizona, Ireland, Denmark and elsewhere.
Apple was the seventh-largest cloud infrastructure spender in 2014, investing $1 billion towards its data centers around the world last year according to research firm Analysys, matching the billions of dollars spent by Amazon, Google, Microsoft and other rivals in the cloud storage and services race. iCloud was introduced in October 2011 and is available on Mac, iPad, iPhone and other Apple products.