Apple Still Negotiating With Music Labels Over Streaming Terms Days Before WWDC Launch
Days before Apple is expected to announce its rebranded and revamped version of Beats Music at WWDC, the Cupertino company is still negotiating terms with music labels, reports Bloomberg. Last month, it was also reported that the two sides had not reached a deal.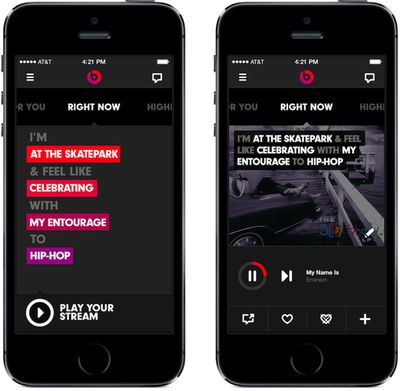 The labels are pushing to get a larger chunk of revenue than they receive under their current deals with Spotify Ltd., a competing streaming service, people familiar with the negotiations said. Both sides want to complete a deal before Apple's June 8 annual event in San Francisco for more than 5,000 developers, according to the people, who asked not to be named because the talks are continuing.
Currently, labels receive 55% of Spotify's $9.99 monthly rate while publishers take 15%. Music labels are hoping to take closer to 60% from Apple, according to the report. Previously, rumors have suggested that Apple was seeking an agreement that allow it to offer a streaming music service to customers for $7.99 a month rather than the standard $9.99 rate. However, Apple was forced to back down after record labels resisted the change.
Additionally, Apple has allegedly been urging music labels to cease offering licenses for freemium tiers that Spotify and other music services offer as the Cupertino company does not plan to offer a free tier with its new streaming service. These efforts have earned Apple scrutiny from government organizations like the European Commission and U.S. Department of Justice, as the two groups are said to be looking into Apple's negotiations.
It's likely Apple still plans to unveil its new streaming service at WWDC, as the two sides want to complete a deal before June 8's keynote address. The new Music app is said to include the rebranded streaming service, a revamped version of iTunes Radio and traditional downloaded music. Apple also plans to offer exclusive content, like behind-the-scenes video from recording sessions. Artists will also get their own pages where they can host videos, songs and other content for free as part of a program called Apple Connect, with Apple compensating the artists and labels for songs they give away.