OS X 10.10.3 Now Supports Dell's Dual-Cable 5K Monitor on Retina iMac and Mac Pro
With the release of OS X 10.10.3 last Wednesday, Apple has expanded support for high-resolution 4K and even 5K external displays (via 9to5Mac). Most notably, OS X 10.10.3 enables the Retina 5K iMac and 2013 Mac Pro to drive Dell's UP2715K 27-inch 5K display released late last year. The display requires more bandwidth than is currently supported over a current single DisplayPort/Thunderbolt cable, so it uses a dual-cable solution taking up two ports on the user's machine.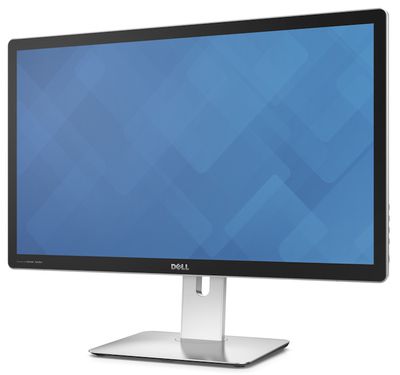 This bandwidth issue for the current DisplayPort standard has been seen as a major roadblock keeping Apple from releasing a standalone 5K Thunderbolt Display. With the Retina iMac, Apple has been able to build custom internal components to drive the massive display, but for external displays, a dual-cable solution such as that used by Dell has been considered by many to be "un-Apple like."
As a result, Apple has been widely expected to wait until the release of Intel's Skylake platform with DisplayPort 1.3 support later this year before releasing an external 5K Thunderbolt Display that will function over a single cable. Whether the inclusion of support for Dell's dual-cable solution in OS X 10.10.3 is a sign Apple may be willing to adopt that arrangement for its own display and perhaps release it earlier is, however, unclear.
Beyond 5K displays, OS X 10.10.3 has also expanded support for 4K displays to include "most single-stream 4K (3840x2160) displays" at 60 Hz, expanding beyond the previous support of only Multi-Stream Transport displays introduced in late updates to Mavericks. The new 4K display support will function with most of the Mac line, from the 27-inch iMac to the brand-new Retina MacBook. However, only the Mac Pro and iMac will support full 4096x2160 resolution at 60Hz.

With OS X Yosemite v10.10.3, most single-stream 4K (3840x2160) displays are supported at 60Hz operation on the following Mac computers:

- MacBook Pro (Retina, 13-inch, Early 2015)
- MacBook Pro (Retina, 15-inch, Mid 2014)
- Mac Pro (Late 2013)
- iMac (27-inch, Late 2013 and later)
- Mac mini (Late 2014)
- MacBook Air (Early 2015)
- MacBook (Retina, 12-inch, Early 2015)
As for the new 12-inch MacBook, the laptop will be able to support displays and rates of 3840x2160 at a 30 Hz refresh rate and 4096x2160 at a 24 Hz refresh rate. MacBook users wanting to use such a display will, of course, need to use Apple's USB-C Digital AV Multiport Adapter to do so.