New 27-Inch 5K Display From Dell Rekindles Thoughts of Retina iMacs
Dell yesterday unveiled its new $2500 27-inch 5K monitor (UP2715K) that boasts an impressive 5120 x 2880 resolution at 218 pixels per inch. This ultra-high resolution places the monitor on par with Apple's Retina MacBook Pro, which has a pixel density of 220 pixels per inch, and would be the equivalent of a Retina 27-inch iMac or Apple Thunderbolt Display.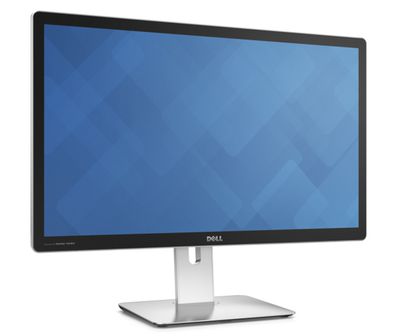 Dell does not detail the technology powering the monitor, but AnandTech believes the company is using Multi-Stream Transport (MST) to stitch together two 2560 x 2880 panels in order to provide 5120 pixels horizontally. Dell demoed the monitor to Maximum PC using a 5K H.265 video streamed from a workstation-class NVIDIA Quadro K5000 video card.
As outlined in our display roundup, customers have been looking toward a higher-resolution large display from Apple for some time, whether it be a true Retina version of the existing display or a somewhat lower resolution 4K display, particularly since Apple has been touting the 4K capabilities of the new Mac Pro. Rumors of Retina iMacs date back to 2012, but the machines have yet to appear, likely due to both cost and technological constraints.
With Dell listing its display at $2500, it is clear pricing remains a challenge for Apple's ambitions to launch Retina iMacs and standalone displays. Standalone displays may stand a better chance, as Apple has historically been willing to develop expensive large-screen displays priced in the thousands of dollars for its pro-level customers. An iMac almost certainly priced well north of $3000 could be a difficult proposition, however, so Apple may yet need more time for prices to come down before such a machine becomes commercially feasible.
Besides its impressive resolution, Dell's monitor ships with Dell's PremierColor technology and an edge-to-edge glass that includes both anti-smudge and anti-reflective properties. Also included in the display is an integrated media reader, six USB ports and 16W Harmon Kardon speakers. Video out support includes dual DisplayPort 1.2 ports for 5K video and a miniDisplayPort for 4K operation.
Dell's UltraSharp 27 Ultra HD 5K monitor will be available in the fourth quarter of this year.