Apple to Lure Android Users to iPhone With New Trade-In Program
Apple plans to lure Android switchers to the iPhone by offering them Apple gift cards in exchange for their Android devices, reports 9to5Mac. The gift cards will be available under a new recycling and trade-in program that will provide in-store credit for users who trade in old smartphones, including those that come from rival smartphone manufacturers.
The new program will work similarly to Apple's existing trade-in program, which provides users with gift cards for older Apple devices that can be used towards a new purchase. Value of the gift cards provided to Android switchers will vary based on the individual device, its age, and its condition.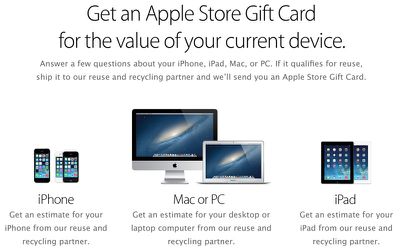 Apple has been making efforts in recent months to attract users switching from Android devices. In addition to this new trade-in program, the company has also created a detailed guide that walks Android users through moving data from their Android devices to the iPhone.
Following the launch of the iPhone 6 and 6 Plus, Apple CEO Tim Cook said the devices had brought the highest Android switcher rate Apple had seen in three years. At the time, Cook also said he expects to see more customers switching over to iPhone.
Apple retail employees will begin receiving training on the new trade-in program this week and it will launch in the near future.