Apple Launches Guide for Android Users Switching to iPhone
Ahead of the launch of the large-screened iPhone 6 and iPhone 6 Plus, Apple has released a detailed support document that walks Android users through moving data from their Android devices to the iPhone.
The document includes information on moving email accounts to the iPhone, giving Android users instructions on how to add email accounts to the Mail app. It suggests using a third-party app (Copy My Data [Direct Link]) to transfer data like contacts, calendars, and photos.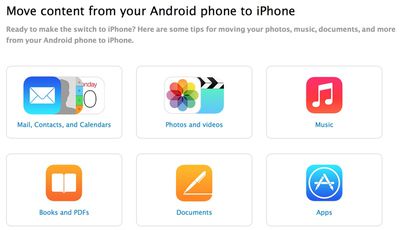 Apple suggests Android users can transfer photos, videos, books, and music from Android devices to iPhones using iTunes on a Mac or PC, giving step-by-step instructions. The document also walks users through transferring various documents to iCloud, which can then be opened in Pages, Keynote, and Numbers via iCloud and on iOS devices using the three apps.
Ahead of the launch of the iPhone 6 and 6 Plus, analysts suggested that the introduction of a larger-screened device could trigger a massive spike in upgrades and lure Android users who were using the Android platform due to the availability of devices with big screens.
Last week, Apple CEO Tim Cook made similar statements, suggesting the iPhone 6 and 6 Plus would trigger "the mother of all upgrades" with Android users also looking to switch to the iPhone due to the fact that the phones are "appreciably better in every single way."
On Monday, Apple announced that it had processed more than four million iPhone 6 and 6 Plus pre-orders on the first day of pre-launch dales, doubling the previous iPhone 5 pre-order record set in 2012. Pre-order supplies of the iPhone 6 and 6 Plus dwindled quickly, with iPhone 6 Plus shipping estimates slipping to 3 to 4 weeks early Friday morning and iPhone 6 shipping estimates slipping to 7 to 10 days on Friday evening.
Apple's iPhone 6 and iPhone 6 Plus will be available in stores beginning on Friday, September 19. Early pre-orders will also begin arriving to customers on that date.