Todoist App for Apple Watch Will Bring To-Do Lists to Your Wrist
With the Apple Watch on schedule to ship in April and some developers asked to have apps readied for this month, we are beginning to see a slow trickle of apps surface for the wrist-worn device. Todoist on Monday became the latest software maker to tease their work-in-progress Apple Watch app, sharing a video and screenshots of the upcoming to-do app with MacRumors this morning.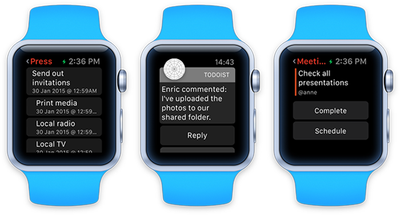 Todoist [Direct Link] aims to bring its popular to-do app for iPhone and iPad to the wrist with a simple Apple Watch app that will provide task management at a glance. When paired with an iPhone, the app will enable users to view their upcoming tasks and categories, reply to comments, and schedule or mark complete tasks. Todoist tells us that the video below is missing the task filter view, but plans to add the feature soon.
Enric Enrich
, a 20-year-old iOS developer at Doist, explains further:
Once inside the main Todoist app, the user can access their Inbox, Projects (and full task lists within each project), Labels, Filters, and a 'Today' view showing all tasks for the day, as well as overdue tasks. When you tap on a task to get the detailed view, you will be able to see the task's associated labels, its due date, its priority level, and you will be able to either "complete" or "postpone" the task directly from the watch. If you don't want to complete or postpone the task, you use the watch's microphone to explicitly assign a time/date to the task (this feature is still in development)."
Apple made its WatchKit SDK available alongside the release of iOS 8.2 and Xcode 6.2 beta in November, although developers are limited to an emulator-only development environment until the Apple Watch is released. For now, a third-party Tesla app and concepts of what apps such as Instagram and Uber could look like provide the best teaser of what the future of the wrist holds.