Third-Party Tesla App Provides Look at Opportunities and Limitations of Apple Watch Development [Updated]
Apple made its WatchKit SDK available alongside the release of iOS 8.2 and Xcode 6.2 beta in November, enabling developers to begin creating apps and software for the wrist-worn device. Looking beyond mockups and conceptual apps, however, a new third-party Tesla app designed by ELEKS offers insight into both the opportunities and limitations that developers face with the first-generation Apple Watch.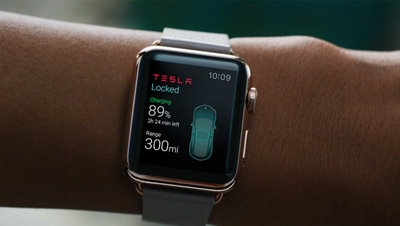 According to ELEKS software engineer Oleksandr Malyarenko, the technical capabilities of WatchKit do not match the expectations set during the Apple Watch keynote. In developing a prototype Tesla app that allows users to control a Model S over the Internet using a web-service API, the team of software engineers found a lot of functionality to be unavailable to developers at this time.
"If you look at the opportunities available for smart watch application development, you'll also see a quite pessimistic picture," wrote Matsekh. "Apple does not indulge developers with an abundance of functionality and tools. However, we can hope that the available functions are limited because this is only the first beta version and it will get much better towards the release."
Malyarenko claims that developers do not have access to the Apple Watch's gyroscope, accelerometer, built-in speaker and microphone or Taptic Engine system of tactile notifications for development. Additionally, despite the Apple Watch display being touch sensitive, he claims that only Force Touch, which displays the shortcut menu, is available for developers, while GPS is restricted to a paired iPhone.
Even with its current limitations, this Tesla app provides an early look at the opportunities that Apple Watch apps make possible. The multipurpose software brings a lot of Tesla car control functionality to the wrist, such as an overview of the car's battery, temperature and mileage, a controls menu for opening or closing the car and activating the headlights, and various screens related to charging, climate, location and the car's condition.
Despite claiming that the Apple Watch has "weak potential for programmers" based on its current emulator-only development environment, Malyarenko recognizes that his assumptions are based off of the first WatchKit SDK available to developers. As with the iPhone and iPad, the first-generation Apple Watch will inevitability have some developmental hiccups that are ironed out over the years.
Apple CEO Tim Cook confirmed at the company's quarterly earnings call on Tuesday that the Apple Watch is on schedule to ship in April, likely alongside a new version of WatchKit. MacRumors also learned that Apple has asked some developers to have Apple Watch apps ready for mid-February. In a short few months, a clearer picture should emerge of just how much potential Apple's first wearable device has for developers.
Update 9:00 PM PT: For those interested in learning more about Apple Watch development, iMore's Rene Ritchie points towards an interesting series called As I Learn WatchKit by iOS developer David Smith. Apple also provides several public-facing Design and Development Resources for the Apple Watch and WatchKit on its website.