Foxconn Technology Group, Apple's main assembly partner for iPhones, today announced (via Reuters) major plans to reduce its workforce due to "declining revenue growth and rising wages in China." The announcement comes mere hours before Apple's financial earnings announcement for the first fiscal quarter of 2015, in which the company is expected to announce record iPhone sales.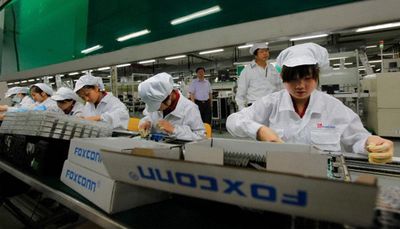 The company doubled its labor costs in recent years following a few public scandals involving worker suicides and poor working conditions, while revenue growth has slowed. After a decade of steady increases following the explosion of popularity for smartphones and tablet devices, mostly thanks to the manufacturing of Apple products, Foxconn hasn't faced the issue of diminishing returns until now.

"We've basically stabilized (our workforce) in the last three years," Woo said. When asked if the company plans to reduce overall headcount, he responded "yes".

Revenue growth at the conglomerate tumbled to 1.3 percent in 2013 and only partially recovered to 6.5 percent last year after a long string of double-digit increases from 2003 to 2012.
Today's news comes on the heels of reports indicating Apple likely sold more iPhones in China than the U.S. in the last quarter, and expectations the iPhone will have record sales coming off the launch of the iPhone 6 and 6 Plus.
Foxconn's job cuts have not been specifically tied to its Apple business, but Apple is a major customer and hiring patterns do generally follow the iPhone product cycle, which should begin to slow a bit follow the rush of customers upgrading to the new models in the early months of availability. Foxconn is also reported to be increasing investments in Apple-related areas, including building a $2.6 billion display plant and perhaps working on sapphire displays for Apple products.
Update 7:48 AM: Foxconn has issued a statement calling the claims of workforce reductions "completely inaccurate", but noting it will slow its hiring in the coming years as it increases automation.
Foxconn wishes to clarify that a media report that alleges that our company is reducing its workforce is completely inaccurate and totally without foundation. We continue to recruit employees to support our business and operations globally and we continue to maintain a workforce of over one million employees worldwide. As we have long said, Foxconn is investing in the automation of many of the manufacturing tasks associated with our operations, applying robotic engineering and other innovative manufacturing technologies to enable our employees to focus on high value-added elements in the manufacturing process. As we continue to increase the application of automation in our operations, the magnitude of our employee recruitment is expected to decrease in the years ahead, but we have no plans to reduce our workforce numbers now or anytime in the future. In addition, our company is confident that we will continue to achieve sustained business growth in the years to come.