Analysts See Record-Breaking Sales for iPhone and Mac in Holiday Quarter
Apple's iPhone 6 and 6 Plus may boost the company's iPhone sales to a new record in the year-ending Q1 2015, says Morgan Stanley analyst Katy Huberty in a recent investor note. In line with other analyst predictions, Huberty and her team expect iPhone sales in the December holiday quarter to reach as high as 69 million units, eclipsing last year's quarterly record of 51 million units sold in Q1 2014.
Huberty also predicts strong Mac sales based on IDC's estimate of 5.8 million units, well above Morgan Stanley's earlier estimate of 5.2 million units and exceeding the record-setting 5.5 million Macs the company sold in fiscal Q4 2014. While the iPhone and Mac climb, iPad demand year-over-year is expected to remain weak with 22 million units shipped in Q1 2015, down slightly from the 26 million sold in the same quarter of 2014.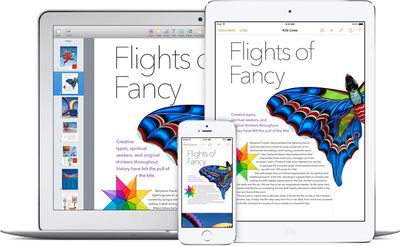 Looking ahead, Huberty believes Apple is on the cusp of a "super" iPhone upgrade cycle that will see an increased number of iPhone owners upgrading from their older iPhone models. The results from Morgan Stanley's Alphawise survey suggest that 35 percent of iPhone owners have an iPhone 4s or older. These older model iPhone owners are likely to upgrade in the next two years with nearly two-thirds of the predicted 200 million iPhone shipments in 2015 being purchased by these upgrade-eligible customers.
The Apple Watch also is expected to command interest in 2015 with 3 million units shipped during the first quarter of availability, predicts Huberty. Surveys suggest the wearable will be popular among iPhone owners, pushing sales to a predicted 30 million units in 2015.
Apple will announce the results for its first fiscal quarter of 2015 (fourth calendar quarter of 2014) and provide future earnings guidance on Tuesday, January 27. The quarterly earnings statement will be released around 1:30 PM Pacific/4:30 PM Eastern, with a conference call to discuss the report following at 2:00 PM Pacific/5:00 PM Eastern.