Nightline's Look into Apple's Foxconn Factories
ABC aired their Nightline special tonight where they took an inside look at Apple's Foxconn factories. Apple allowed Nightline access to the Foxconn factories that produce iPhones and iPads. Foxconn is the world's largest electronics manufacturing company that has contracts with most major U.S. electronics companies. The full video is not available online at this time.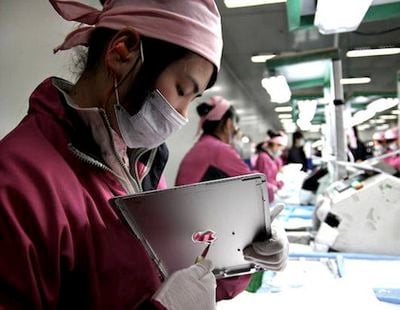 Overall, the report held no real surprises. They summarized many of the events leading up to the bad press surrounding Foxconn's working conditions. The cluster of suicides was mentioned over the past few years that led to the installation of suicide netting to discourage impulsive suicide attempts. Nightline did note that the suicide rate at Foxconn was still below the Chinese national average. Tim Cook, then Apple's COO, flew to China during that time to help coordinate the response. Beyond the suicide netting, pay was increased and counseling offices were set up.
Work on the factory line is described as monotonous with 12 hour shifts with two hour long meal breaks. When questioned, workers complained about cramped dorms and low pay, but the jobs were in high demand with thousands coming to Foxconn for work. Nightline traveled to a nearby village to compare those living conditions which didn't seem any better. The families who remained in the village told Nightline that their living conditions were better with the "young people" working in the factories.
The Verge compiled some interesting statistics from the report:

- It takes 141 steps to make an iPhone, and the devices are essentially all handmade
- It takes five days and 325 hands to make a single iPad
- Foxconn workers pay for their own food — about $.70 per meal, and work 12 hour shifts
- Workers who live in the dorms sleep six to eight a room, and pay $17.50 a month to do so
- Workers make $1.78 an hour
Nightline's visit coordinated with Fair Labor Association who is compiling their own report on the factories.
Overall, the report was fair-to-positive making it seem like Apple was being very responsive to the concerns.
Update: Video of the segment is now available to U.S. viewers through ABC's website.