Foxconn Rumored to Produce Sapphire Displays for Apple's Next iPhone
Foxconn Technology Group, Apple's main iPhone assembly partner, is reportedly gearing up to produce sapphire displays for Apple's next generation of mobile devices, according to a report by China Economic Weekly cited by Focus Taiwan.
Foxconn has reportedly reached an agreement to build a display factory on an over 300-acre plot of land adjacent to an iPhone 6 assembly plant in the Chinese city of Zhengzhou, where the company had been reported last month to be looking into such a facility. Just last week, Foxconn was also reported to be planning a new iPhone display plant in Taiwan.
The China Economic Weekly reported Tuesday that Foxconn has signed an agreement with the Zhengzhou city government in Henan Province, central China, to set up a display factory on a 133-hectare plot of land next to an iPhone 6 assembly plant.

The new factory is expected to manufacture sapphire displays for the next generation of the Apple devices, the report said.
Rumors of Apple's continued interest in sapphire displays for the iPhone come less than two months after the company's previous sapphire partner GT Advanced Technologies filed for bankruptcy. Apple had been widely expected to use sapphire displays on at least some models of the iPhone 6 and 6 Plus, but that turned out to not be the case as production difficulties apparently prevented the move and led to the collapse of the partnership between the two companies.
According to the new reports, Apple "has not given up on a plan to use sapphire displays in its next-generation smartphones." Market observers, however, reiterated that Apple plans to cautiously evaluate the sapphire displays to determine feasibility and avoid shortages.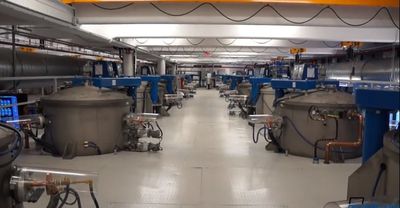 Following the reports concerning the adoption of sapphire displays in the next generation of iPhone, shares of Taiwanese sapphire manufacturers rose sharply. Share prices of local sapphire firms had been depressed following Apple's decision to not adopt sapphire displays for the iPhone 6 and 6 Plus.
Beyond the iPhone, Apple also plans to use sapphire displays in higher-end models of its upcoming Apple Watch, a plan Asia Securities Investment Consultant analyst Chang Chih-cheng says will boost local Taiwanese sapphire manufacturers in the near-term far more than rumors of the iPhone 6s or 7, as rivals see the possible benefits of the scratch-resistant display and adopt it for their own devices.