Apple Acquires Media Analytics Company Semetric Ahead of Beats Music Relaunch
Apple has acquired British media analytics company Semetric and will look to roll in the company's Musicmetric tracking service into its relaunch of Beats Music later this year, reports The Guardian.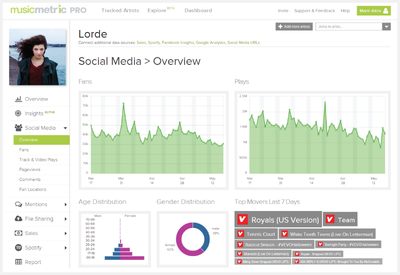 In documents filed with Companies House earlier in January, Semetric's registered address was changed to 100 New Bridge Street in London – the office of law firm Baker & McKenzie, which is also the registered address of Apple Europe Limited.

"Apple buys smaller technology companies from time to time, and we generally do not discuss our purpose or plan," said Apple in a statement provided to the Guardian, although Semetric declined to comment.
First launched in 2008, Musicmetric is known for its expansive tracking of music sales, downloads, and social networking statistics for artists and labels. In 2013, the startup also struck a deal with streaming service Spotify to integrate its data into Musicmetric's profiles for users.
Last year, it was reported that Apple would be revamping the Beats Music streaming service for 2015, and was even said to be pushing for an industry-leading $5 monthly subscription cost. Apple could look to offer musicians and music labels a way to track their iTunes and social networking statistics with Musicmetric, although both companies have yet to specify their plans.