Belkin's WeMo line, which consists of a range of home automation products like light switches, motion sensors, cameras, and more, has been around a few years, but the company has been dedicated to updating it and adding new products on a regular basis.
It appears that the WeMo line's next major update could be the addition of HomeKit support, letting the complete range of products integrate with Apple's upcoming home automation platform. Speaking to MacObserver, a Belkin spokesperson confirmed that the company is committed to introducing HomeKit support, which will come in "the very near future."
WeMo will continue to evolve as we deliver on our promise of being the most approachable entry point to the connected home, and it is a natural progression based on Belkin's long-term partnership with Apple that compatibility with HomeKit will be a part of that evolution.

We are currently in conversations with Apple, but no specifics have been finalized at this point. Though our primary goal will always be to create a robust WeMo platform and unparalleled user experience for both current and future WeMo users, we are actively engaged in bringing HomeKit compatibility to fruition in the very near future. Stay tuned.
Belkin was one of the first accessory companies to embrace home automation, and its wide collection of connected products will likely help skyrocket HomeKit to popularity once it becomes available. Belkin started out with a line of connected WeMo switches that allowed any electronic item plugged into them to be controlled by a mobile device, but has since expanded to light bulbs, slow cookers, humidifiers, coffee pots, cameras, motion detectors, and more. There's even a WeMo Maker that can be used by do-it-yourselfers to for a wide range of connected home projects.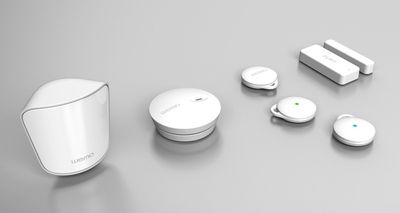 Belkin's newest WeMo products
This January, Belkin debuted
several new WeMo products
, including a WeMo Door and Window sensor, a Keychain sensor, an improved motion detector, and an Alarm sensor that alerts users when an existing home alarm goes off.
Belkin has even bigger plans for home automation in the future. At CES this year, the company was demoing a smart home system that included an under-the-sink WeMo Water sensor designed to measure a home's water usage, and Belkin told MacRumors that a similar product for measuring total home power usage was in the works.
Quite a few companies have announced plans to integrate with Apple's HomeKit, including iDevices, Elgato, Schlage, and more, but Belkin is one of the largest. At the current point in time, it seems that Apple is still putting the finishing touches on its HomeKit tools with chips just beginning to ship out in November, so it may be a few months yet before we begin seeing the first HomeKit-compatible products hitting store shelves.