PDF Reader 'GoodReader' Removes iCloud Drive Functions to Comply with 'Mandatory' Apple Policy [Updated]
PDF reader app GoodReader has removed a number of operations related to iCloud Drive to comply with Apple's guidelines. Specifically, developer Good.iWare has disabled GoodReader's ability to create and delete new folders inside iCloud along with the ability to move iCloud files. The developer called the iCloud usage policy "mandatory" and also included VoiceOver compatibility along with a big fix for opening iCloud containers.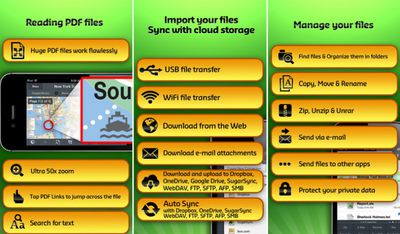 Important iCloud functionality change:
- to ensure the compliance to Apple's iCloud usage policy, the following operations have been disabled: creation of new folders inside iCloud, deletion of folders inside iCloud, moving of files and folders inside iCloud.
We apologize for the inconvenience, but the iCloud usage policy is mandatory.
The changes to GoodReader come a week after Panic's file management app Transmit was forced to disable its send to iCloud Drive feature which also led to the removal of all Share Sheet file transfers to other third-party services. However, Apple later reversed its course on Transmit as the app reinstated its sending feature in an update shortly after.
While Apple introduced a number of new features with iOS 8, a number of developers have been forced to remove key features from their apps for reasons that are unclear. For instance, Notification Center widget Launcher was removed after the launch of iOS 8 in September, and Apple has also asked apps like Drafts and Neato to remove widget functionality. Apple also asked calculator app PCalc to remove the calculator functionality from its Notification Center widget, but later reversed its decision.
GoodReader is a $4.99 download for the iPhone and iPad. [Direct Link]
Update: Apple has quickly reconsidered its decision and allowed GoodReader to restore iCloud Drive functionality with version 4.8.1.