Apple Continues War on Notification Center Widgets, Asks 'Drafts' to Remove Note Creation Feature
Apple is continuing to sort out its nebulous policies on Notification Center widgets, and has today told Drafts developer Agile Tortoise that the app's widget is not allowed to be used to create drafts or open the Drafts app.
In a tweet, developer Greg Pierce says that he's been asked to re-submit Drafts without functionality for opening the app or creating a new note, which essentially removes all of the features of the Notification Center Widget.
Welp. Enjoy the Drafts Today widget while it lasts. Apple has required me to re-submit w/o the buttons to create drafts or open the app… — Greg Pierce (@agiletortoise) December 2, 2014
Drafts 4
, which was first introduced in October as an update to the existing
Drafts
app, is a popular note taking and text capture app that lets users post to a variety of social networks and perform various actions with notes like creating calendar events, emails, messages, and more.
Like many other apps that have Notification Center widgets, the Drafts app widget lets users open the app directly, create a new draft, or create a new draft from what's on the clipboard. It has very little functionality in the Notification Center aside from simply opening up the Drafts app, which in the past, has seemed like an acceptable use of the Notification Center.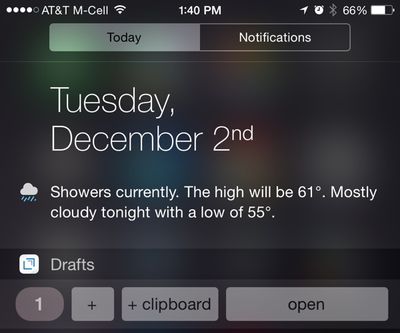 Pierce, however, says that he's been told that the Today view in the Notification Center is "for information presentation only," a point of view that would rule out nearly all Notification Center apps. As Pierce points out, there are several similar apps that offer the exact same widget function as Drafts, such as Evernote, which also allows users to launch the Evernote app and new notes and other content from within the Notification Center.
Drafts is one of a number of apps that have faced confusing rules and restrictions delivered by Apple's app review team. Back in October, Apple told the PCalc developers that calculator functions were not allowed in the Notification Center before changing its mind, and just a few weeks ago, Neato was told that it would have to remove the note taking functionality from its Notification Center widget.
Apple's App Extension Guidelines suggest that Notification Widgets should have a "simple, streamlined UI," and "a limited number of interactive items," but its vague language has led developers to spend time and effort creating a variety of useful functions that are ultimately disallowed as Apple aims to refine how it wants the Notification Center to be used.
It is not clear why Drafts has been singled out by Apple's app review team as it offers the same functionality as other widgets, but if the Drafts widget is removed, it's possible that many other similar widgets could be in danger of being in violation of the Notification Center widget rules.
Drafts can be downloaded from the App Store for $9.99. [Direct Link]