Apple Reverses Course, Allows Transmit to Reinstate 'Send To' Feature
Earlier this week, file management app Transmit from developer Panic gained some attention after Apple required the company to remove a key sharing feature that let files be sent to multiple services like Dropbox and iCloud Drive.
Apple's concern was Transmit's ability to send files to iCloud Drive, which it said violated one of the iOS Data Storage Guidelines. Apple asked Panic to remove the feature, but unfortunately, due to an unalterable Share Sheet, sending files to iCloud Drive was tied to sending files to other services, requiring the company to completely remove the feature from the app.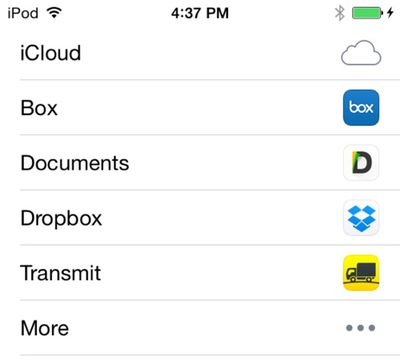 Unalterable Share Sheet in iOS 8


Shortly after several news sites wrote about the confusing position Panic had been put in with its Transmit app, Apple called the developers and confirmed that the sharing functionality could be reinstated. According to Panic, a new version of Transmit has been submitted to the App Store, which includes a restored "Send To" feature that will once again allow the app to send files to iCloud Drive, Dropbox, and other third-party apps.
Update: late Wednesday we got a nice call from Apple. We have resubmitted Transmit iOS with "Send To" (iCloud Drive et al.) restored. — Panic Inc (@panic) December 11, 2014
This is the second time that Apple has reversed course on an App Store decision that received significant negative attention in recent months. In late October, Apple told PCalc that it would need to remove its calculator widget from the Notification Center, but a day later, the company changed its mind and opted to allow calculator widgets to remain in the Notification Center.
Apple has a large team of app reviewers and somewhat ambiguous guidelines on several new iOS 8 developer features. This has led to many app use cases that the company did not anticipate causing several contradictory and confusing removal requests in recent months for features that were previously approved. Though PCalc and Transmit have been allowed to retain their functionality, other apps like Neato, Drafts, and Launcher have not been so lucky.
Transmit can be downloaded from the App Store for $9.99. [Direct Link]
Update 1:30 PM PT: Transmit for iOS version 1.1.2 with a reinstated "Send To" feature is now available for download from the App Store.