Apple Forces Transmit to Remove Send to iCloud Drive Feature, Blocks All Share Sheet File Transfers in the Process
Panic's file management app Transmit made its way to iOS with the launch of iOS 8, bringing several useful capabilities that took advantage of iOS features, including "Extensibility" options that let any app upload files to a server using Transmit and a "Send" feature that let files be shared to multiple services like Dropbox and iCloud Drive.
As of last week, the function that let files be sent to Dropbox or iCloud Drive was removed from Transmit, at the request of Apple. As Panic explains in a blog post, Apple has asked the company to remove the "Send" feature from Transmit because Apple's rules state that apps cannot upload content to iCloud Drive unless content was created in the app itself.
In short, we're told that while Transmit iOS can download content from iCloud Drive, we cannot upload content to iCloud Drive unless the content was created in the app itself. Apple says this use would violate 2.23 -- "Apps must follow the iOS Data Storage Guidelines or they will be rejected" -- but oddly that page says nothing about iCloud Drive or appropriate uses for iCloud Drive.
Though Panic is only barred from uploading files to iCloud Drive, the company says that it was forced to remove the "Send" feature entirely because the Share Sheet used to send documents to other services automatically lists iCloud, and it can't be altered.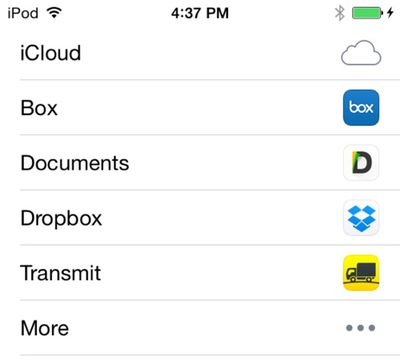 Immutable Share Sheet in iOS 8


By barring Transmit from uploading files to iCloud Drive and providing a Share Sheet that cannot be modified, Apple has effectively blocked Transmit from being able to send files to other third-party services like Box, Dropbox, Evernote, and more.
Panic is hoping that its blog post will attract the attention of Apple employees who may be able to fix the frustrating position Apple has put the company in, either through making the Share Sheet alterable or by simply allowing Transmit to upload to iCloud Drive.
iOS 8 brought quite a few changes to iOS, including Notification Center widgets, third-party keyboards, and deep integration between apps in the form of extensions. Apple has had difficulty sorting out how it wants various features in iOS 8 to be used, however, and the company's indecision and its unclear documentation has led to several instances where developers were asked to remove key functions from their apps.
Useful Notification Center widget Launcher was pulled from the App Store in September, and more recently, Apple has asked apps like Neato and Drafts to remove widget functionality that violates the company's guidelines. There is some hope for Transmit, however, as Apple has reversed course on one notable removal request. In late October, Apple asked calculator app PCalc to remove the calculator functionality from its Notification Center widget, a decision that was later reversed after the issue received significant attention.
Transmit can be downloaded from the App Store for $9.99. [Direct Link]