Apple Cracks Down on Notification Center Widgets, Says 'Neato' Must Remove Note Taking Feature
Apple is cracking down on Notification Center widgets in iOS once again, this time telling Neato that its note taking widget is unacceptable and will need to be removed due to the fact that it includes a keyboard.
First launched in early November, Neato installs a quick note taking widget in the Notification Center, letting users type directly in the widget. Notes can be sent instantly to either Evernote or Dropbox. As a widget-focused app, Neato has no other functionality, which means the removal of its keyboard will essentially kill the app.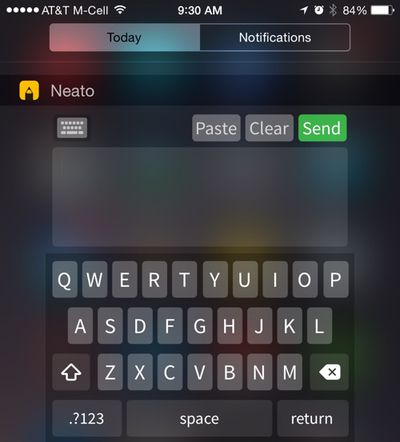 According to the developers behind Neato, who spoke to Gizmodo, Apple contacted the company after it became popular, hitting the top 10 business list in more than 65 countries.
We were expecting Neato to be featured by Apple but instead Apple called us on Nov 10th, and we were told that: "Neato does not comply with one or more App Review Guidelines". They required us to remove the keyboard from the widget. But Neato without the keyboard is nothing, and like a limp horse.
The company attempted to appeal, but Apple stuck with its decision to force Neato to remove the keyboard, stating that its position on the app had "not changed" and that an update removing keyboard functionality would need to be submitted within two weeks.
Apple appears to be having some difficulty deciding on what constitutes acceptable use of the Notification Center as app developers come up with clever ways to take advantage of widget functionality. In late October, Apple told PCalc's developers that the PCalc calculator widget would need to be removed as Notification Center widgets were not allowed to perform calculations, but a day later, the company reversed course and allowed the calculator widget to remain in the App Store.
Another app, Launcher, wasn't quite as lucky. Introduced shortly after iOS 8 was released to the public, Launcher installed a Notification Center widget that provided access to quick actions like making a phone call, opening a pre-defined Maps route, or sending a tweet. Launcher was only available for a few days in the App Store before Apple opted to pull it.
According to Apple's App Extension guidelines, Notification Center widgets should have a "simple, streamlined UI," a limited number of interactive items, and are prohibited from creating "a mini version" of an app. Apple has run into several apps that, like PCalc, were not expected widget use cases and are not outlined in the widget guidelines, leading to apps that are accepted and then later rejected as Apple further defines how it wants the Notification Center to be used.
Neato can be downloaded from the App Store for free. [Direct Link]