Apple Reverses Course on iOS 8 Notification Center Calculators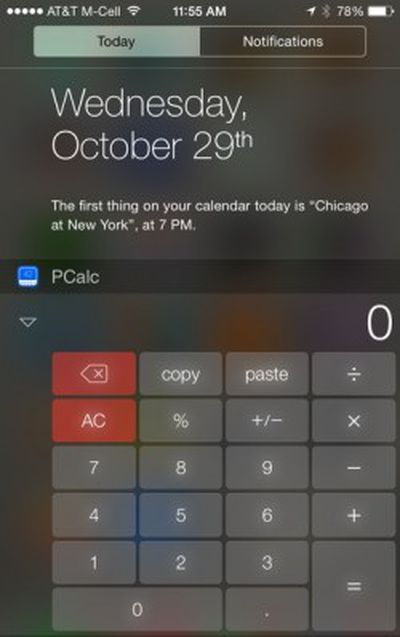 Yesterday, Apple told PCalc developer James Thomson that the Notification Center widget portion of his popular calculator app PCalc would need to be removed, as Notification Center widgets "cannot perform any calculations."
Following significant media coverage of the issue, Apple has now reversed course on the decision and according to an Apple spokesperson that spoke to TechCrunch, both PCalc and its Notification Center widget will be allowed to remain in the App Store, along with all other apps that contain calculator widgets.
The initial decision to remove Pcalc's widget was reportedly the result of a use case that Apple had not anticipated. Because it was not within the guidelines, an App Store reviewer told Thomson the functionality would need to be changed or it would be pulled from the App Store. It's likely the attention the removal received sparked a deeper review of the app, leading to the policy change.
Thomson's PCalc app was one of the first apps to be updated for iOS 8 and following its release, it was lauded for its convenient and unique use of the Notification Center in App Store reviews and in iOS 8 coverage from a variety of sites.
Apple itself features PCalc's Notification Center widget in multiple places in the App Store, including a section called "Extend Your Apps" featuring apps with unique widgets, and a "Great Apps and Games for iOS 8" section, which also features a selection of interesting Notification Center widgets.
PCalc can be downloaded from the App Store for $9.99. [Direct Link]
PCalc Lite, a free version of the PCalc app, also includes the Notification Center widget. [Direct Link]
Update 10:12 AM PT: PCalc developer James Thompson has received a phone call from Apple confirming that the PCalc widget will be allowed to remain intact.