Beats CEO Jimmy Iovine Meeting with Musicians Over Exclusive Beyonce-Like Album Releases
Beats CEO Jimmy Iovine has been meeting with a number of music artists over doing exclusive album releases similar to Beyoncé's incredibly successful iTunes album last year, reports the New York Post.
Citing sources close to the matter, the paper notes that Iovine is using his close connections with popular musicians like Nicki Minaj, Pharrell, and Gwen Stefani to create new side deals that would bring exclusives, with Beats also said to be negotiating additional promotional deals after a successful campaign with AT&T earlier this year.
It's been almost a year since Beats Music launched with a brace of Super Bowl spots starring Ellen DeGeneres and a big promotional backing from AT&T.
The promotional relationship ended a few months ago, and parties are discussing future deals. "They outperformed expectations in terms of the upsell," said one source of AT&T.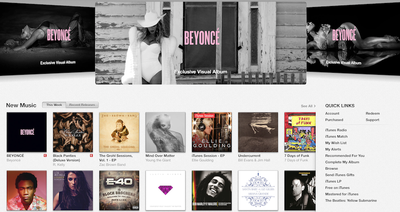 In February, it was reported that Apple's iTunes chief Robert Kondrk met with record label executives during Grammy Week in January about the potential of more exclusive album releases similar to Beyoncé's. Kondrk emphasized sales through digital storefronts like iTunes in those meetings, and asked executives if they could lock down individual track sales after a certain window of time to create greater attention for artists and their music.
Beyoncé's self-titled album broke a number of records after its exclusive release on iTunes last December, selling over 828,000 copies in just three days to become the fasting selling collection of music in the service's history. The album was backed by significant promotion on the iTunes Store and across various social media networks.