iTunes-Exclusive Beyonce Album Breaks Records With 828,773 Copies Sold in 3 Days
Late Thursday night, singer Beyoncé released a new album exclusively on iTunes, with significant promotion both on the iTunes Store and across social media.
In a press release today, Apple said the album is the fastest selling ever on the iTunes Store, moving 828,773 units worldwide in its first three days of availability. The album sold 617,213 copies in the U.S., and went to number one on the iTunes chart in 104 countries.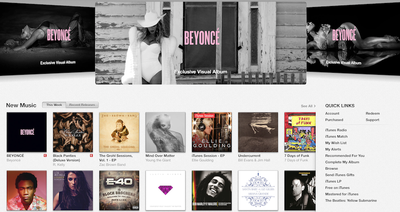 The self-titled, BEYONCÉ, is the fifth solo studio album from Beyoncé, which was made available exclusively worldwide on the iTunes Store on December 13 by Parkwood Entertainment/Columbia Records. The self-titled set is the artist's first visual album. BEYONCÉ is infused with 14 new songs and 17 visually stunning, provocative videos shot around the world from Houston to New York City to Paris, and Sydney to Rio de Janeiro, all before the album's release. The album represents Beyoncé's biggest sales week ever.

The iTunes Store is the world's most popular music store with a catalog of over 26 million songs and is available in 119 countries. The iTunes Store is the best way for iPhone®, iPad®, iPod®, Mac® and PC users to legally discover, purchase and download music online. All music on the iTunes Store comes in iTunes Plus®, Apple's DRM-free format with high-quality 256 kbps AAC encoding for audio virtually indistinguishable from the original recordings.
The album is currently featured in every slot on the promotion carousel at the top of the iTunes Store. It is dubbed a "visual album" because each song has an accompanying music video.