Apple Allows 'Drafts' App to Reinstate Notification Center Widget
Earlier this month, Apple asked note-taking app Drafts to remove its Notification Center widget, which offered simple tools for opening up the Drafts app and creating a new note. At the time, the removal request seemed highly questionable, because a multitude of apps with Notification Center widgets, including other note-taking apps like Evernote, provide similar functions.
As it has done with several other overly zealous removal requests, Apple has reexamined the Drafts widget and has reversed course once more, allowing the Drafts app to retain its Notification Center widget.
In a new 4.0.6 update pointed out by MacStories, Agile Tortoise, the developer behind Drafts, has returned the widget to the app with permission from Apple.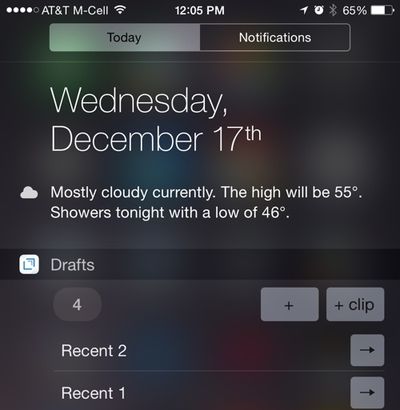 New: Today widget. Now back with the addition of recent drafts summary. Thanks to the help of some fine folks inside Apple for sorting this out.
In addition to returning the original quick note creation function to the Drafts widget, today's update also brings expanded functionality in the form of a feature that allows users to open recently created drafts. Combined with the existing functionality, the Drafts app now allows users to view recent drafts, create new drafts, view the number of stored drafts, and create new drafts from the clipboard, all very useful widget features.
The removal of the Drafts widget and its subsequent return mark just one of the policy reversals Apple has implemented over the last few months. In October, PCalc was asked to remove its calculator widget before Apple changed its mind, and just last week, file-management app Transmit was allowed to reinstate a key sharing feature that Apple had previously said was not allowed.
Apple's frequent and erratic app policy shifts suggest the company is continuing to struggle with defining just how it wants various iOS 8 features to be used. The combination of a large app review team and somewhat ambiguous guidelines have led to many contradictory removal requests of previously approved features, causing confusion and disquiet among developers.
Drafts can be downloaded from the App Store for $9.99. [Direct Link]