iOS 8 Now Installed on 63 Percent of Active iOS Devices
After more than two months of availability, Apple's newest mobile operating system, iOS 8, is now installed on 63 percent of iOS, according to new numbers posted on Apple's App Store support page for developers.
iOS 8's installation numbers have increased approximately seven percent over the course of the last month, and installation numbers are up 11 percent since October 27. iOS 7 usage, meanwhile, has dropped from 43 percent in October to 33 percent as of December 8.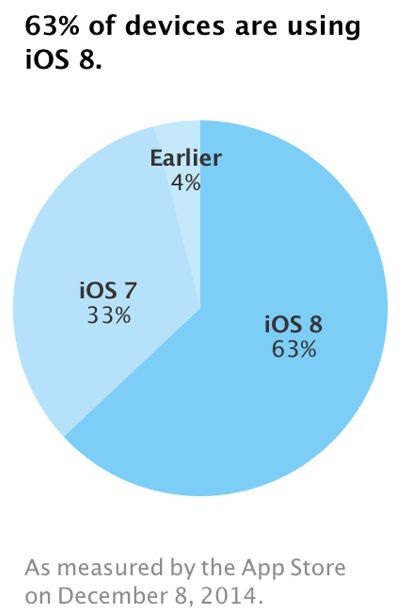 Apple's own iOS 8 adoption estimates are based on App Store usage and are mirrored closely by data from analytics service MixPanel, which puts iOS 8 adoption at 63.94 percent as of today.


The number of users installing iOS 8 initially stagnated at 47 percent just three weeks after the software was first released to the public, but installation numbers have been climbing steadily since then due to a number of bug fixes and an email campaign from Apple encouraging users to upgrade.
iOS 8's low adoption rates were likely due to several major bugs the software faced in its early days and a lack of space on 16GB devices for installing the OS. Apple's recent email campaign attempted to alleviate the latter issue, informing users with little space on their devices that they could upgrade through iTunes.
iOS 8.1, iOS 8.1.1, and iOS 8.1.2, introduced today, all brought bug fixes for several major issues, repairing problems and improving the stability of iOS 8. Apple is also working on iOS 8.2, which is expected to bring additional bug fixes and has been seeded to developers for testing purposes.