Apple Sending Emails Encouraging Customers to Upgrade to iOS 8
Apple is encouraging customers that have opted to stick with older versions of iOS to upgrade to its latest mobile operating system, iOS 8, released to the public in September.
The company has been sending out emails to iOS users who have yet to install iOS 8, letting them know that their "iOS 8 update is waiting." The email offers information on what's included with iOS 8, detailing features like QuickType, the new Health app, Family Sharing, iCloud Drive, and Continuity.
It also gives specific installation instructions, letting users know that they can upgrade wirelessly using the Software Update tool or through iTunes if their devices are low on space. Apple's iTunes installation tip could spur quite a few users to upgrade, as a lack of free space on low capacity devices appears to be one of the major factors preventing users from updating.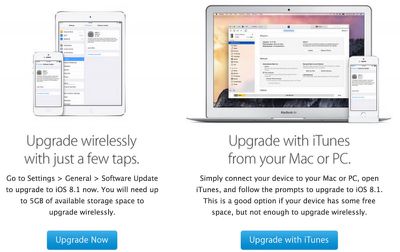 iOS 8 adoption has been somewhat slower than iOS 7 adoption, and just three weeks after it was released, iOS 8 installation numbers had stagnated. While we originally chalked this up to a number of significant bugs in the operating system, our readers quickly pointed out that an over-the-air update requiring 5GB of free space was a major hurdle to overcome. Many users seem to be unaware that installing via iTunes is an option, as evidenced in one comment on our forums:

I have friends who are still on iOS 7 because they don't have enough free space available to upgrade. When I tell them they can upgrade by connecting their phones to their computers, and thus, doing it through iTunes, they look at me like I'm crazy, or like it's 2008 or something.
Over the course of the last week, iOS 8 adoption numbers have picked up somewhat, after Apple introduced new features like Apple Pay with the recent iOS 8.1 update. As of October 27, Apple's official installation numbers suggested the OS was on 52 percent of devices, up from 48 percent on October 13, and data from MixPanel suggests that number has risen even higher in November, hitting 59 percent.
(Thanks, Jaime!)