iOS 8 Now Installed on Nearly 60 Percent of Active iOS Devices
After seven and a half weeks of availability, Apple's mobile operating system is now installed on 56 percent of iOS devices, according to the latest data posted on Apple's App Store support page for developers.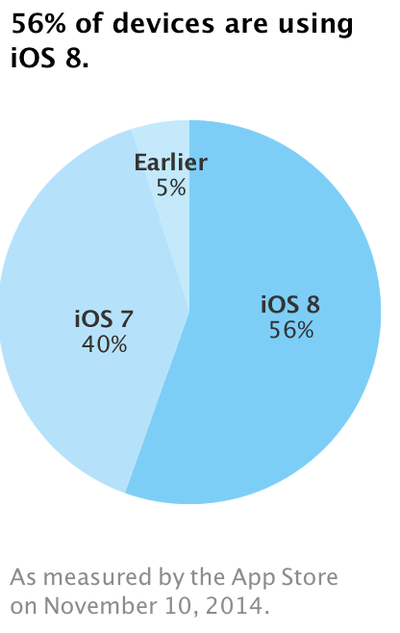 iOS 8's installation numbers have increased approximately four percent over the past two weeks, which means iOS 8 adoption has jumped eight percent in the past month. During Apple's October 16 iPad event, Apple CEO Tim Cook said that iOS 8 was installed on 48 percent of devices as of October 13. Before that, as of September 21, iOS 8 was installed on 46 percent of devices, indicating that adoption is steadily increasing after several weeks of stagnation.
The boost in iOS 8 adoption follows the October 20 release of iOS 8.1, which included several new features like Apple Pay that likely have enticed users to upgrade. Other desired features included SMS Forwarding, Instant Hotspot, iCloud Photo Library beta access and the return of the Camera Roll.
iOS 8's initial release was plagued by a number of bugs that may have scared some users away. All HealthKit-enabled apps were pulled from the App Store prior to the launch of iOS 8 due to a major HealthKit bug. iOS 8.0.1, a fix to that issue, introduced new bugs that disabled cellular service and Touch ID for thousands of iPhone 6 and 6 Plus users. iOS 8.0.2 was soon released, fixing the bugs of the previous release but introducing several other bugs. And finally, iOS 8.1 fixed many more issues with the previous updates, providing the most stable version of iOS 8 yet.