iOS 8 Now Installed on Over Half of Active iOS Devices
After five and a half weeks of availability, Apple's iOS 8 operating system is now installed on 52 percent of iOS devices, according to new numbers posted on Apple's App Store support page for developers.
iOS 8's installation numbers have increased approximately four percent over the course of the two weeks, which means adoption numbers are on the rise after several weeks of stagnation. During Apple's October 16 iPad-centric event, Apple CEO Tim Cook said that iOS 8 was installed on 48 percent of devices as of October 13, and before that, the OS was installed on 46 percent of devices on September 21.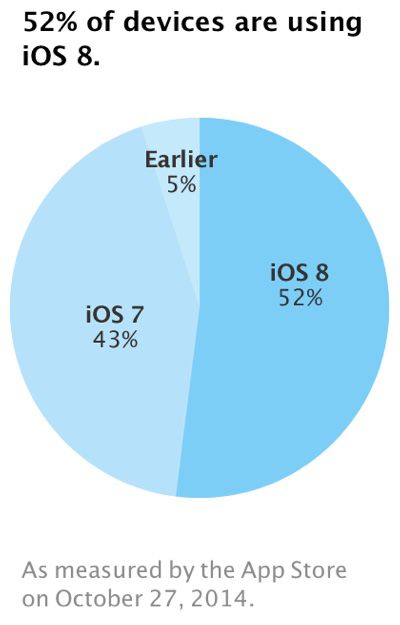 The jump in iOS 8 installation numbers follows the October 20 release of iOS 8.1, which brought several new features that undoubtedly enticed iOS users to upgrade, including Apple Pay support, SMS Forwarding, Instant Hotspot, iCloud Photo Library beta access, and the return of the Camera Roll.
iOS 8.1 also addressed several notable bugs that had been present in the operating system for several weeks and that were the source of several user complaints about iOS 8. The update fixed Wi-Fi connection issues, Bluetooth problems, screen rotation bugs, and more.
Apple's own iOS 8 adoption estimates are based on App Store usage and are mirrored closely by data from MixPanel, which puts iOS 8 adoption at just over 54 percent. MixPanel's numbers suggest installation rates have been trending upwards since the release of iOS 8.1.


iOS 8's release was plagued with a number of early bugs that may have scared users away from updating. Ahead of launch, all HealthKit-enabled apps were pulled from the App Store due to a major HealthKit bug, and the fix for that issue, iOS 8.0.1, brought its own bugs, disabling cellular service and Touch ID for thousands of iPhone 6 and 6 Plus users.
iOS 8.0.2 fixed the problems introduced with iOS 8.0.1 and brought several other bug fixes, and with iOS 8.1 fixing even more issues with iOS 8, the operating system is far more stable now than it was in the days following its release.