T-Mobile's John Legere Talks Apple SIM, iPhone 6 Demand, and Landing the iPhone
T-Mobile CEO John Legere today took the stage at Re/code's Code/Mobile event in Half Moon Bay, California, where he spoke on the new Apple SIM, demand for the iPhone 6 Plus, and the importance of selling the iPhone.
According to Legere, the launch of the iPhone 6 and 6 Plus was T-Mobile's biggest phone launch the company had ever seen, and Legere called demand for the iPhone 6 Plus "mind blowing." He said that it skewed very differently from what the company anticipated, and while he couldn't comment on the current demand ratio, he said at one point it was around 55/45 rather than the 75/25 or 80/20 projected in favor of the iPhone 6. Legere said that while the backlog is coming down, it will be awhile before the company is able to provide devices to everyone.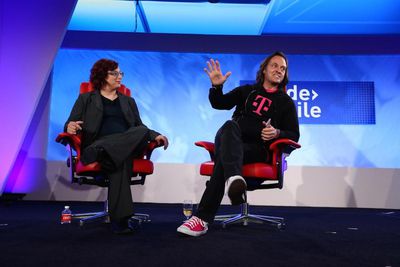 While on stage, Legere sorted out much of the confusion surrounding the Apple SIM, which is designed to allow users to easily switch from carrier to carrier with their iPad Air 2 or iPad mini 3. According to Legere, when bought from Apple, the SIM card in the iPad Air 2 and the iPad mini 3 offers customers complete flexibility, letting them choose Sprint, T-Mobile, or AT&T.
iPad Air 2 and iPad mini 3 devices that Apple sent to T-Mobile and AT&T for sale include Apple SIMs that are pre-coded to each carrier, which means the SIM cards can't be used interchangeably. Because the iPads purchased directly from Apple are usable with any participating carrier (Verizon has opted out), Legere recommends that users purchase the iPad Air 2 and the iPad mini 3 directly from an Apple Store.
Apple SIMs from an iPad Air 2 or iPad mini 3 purchased from the Apple Store and then associated with a T-Mobile plan will remain unlocked and usable with other carrier plans, but an Apple SIM activated on an AT&T plan will be permanently locked to the carrier, requiring a new Apple SIM if a user wants to switch plans.
Legere also commented on the importance of the iPhone, stating that "[a] store without the iPhone is sh*t," and attributing much of T-Mobile's recent success to its partnership with Apple. Legere noted one of his tasks upon taking the reins of T-Mobile two years ago was to do whatever it took to land the iPhone, and he accomplished it, noting that he was willing to "get down on his knees" to make a deal happen.

Full interview with John Legere (Caution: some strong language)
Just ahead of Legere's appearance at Code/Mobile, T-Mobile
announced
its Q3 2014 earnings, noting that it saw its biggest growth quarter in the company's history. T-Mobile added 2.3 million customers during the quarter (1.4 million postpaid net adds), with revenue up 10.6 percent to $5.7 billion. T-Mobile also announced that it hit its LTE goals for 2014, bringing LTE service to 250 million customers.
Since 2013, T-Mobile has been on a quest to revamp the mobile industry with a series of Un-carrier initiatives that have thus far seen it uncoupling device fees from service charges, encouraging customers to switch to T-Mobile by paying early termination fees, offering a JUMP! upgrade plan, providing unlimited texting and 2G data in 100 countries, letting customers test drive an iPhone at no cost, offering free streaming music, and bringing Wi-Fi calling to all T-Mobile customers with compatible devices.