AT&T Locking Apple Interchangeable SIMs in iPad Air 2 and iPad Mini 3 [Updated]
Apple's new Apple SIM card in the iPad Air 2 and the Retina iPad mini 3 is designed to be universal, usable across a variety of wireless carriers in the US and UK, including AT&T, Sprint, T-Mobile, and UK's EE.
According to user reports in the MacRumors forums and on Twitter, however, AT&T is not supporting this interchangeability and is locking the SIM included with cellular models of the iPad Air 2 and Retina iPad mini 3 after it is used with an AT&T plan.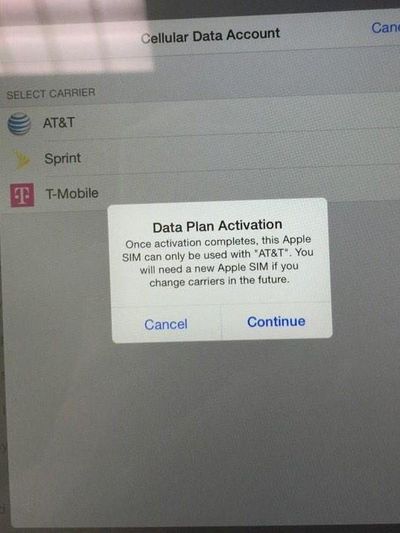 A newly posted
Apple support document
details what happens to the SIM when it is activated on US carriers.
Using Apple SIM, you can choose from different cellular carriers and their various programs. The data plans vary by carrier. For instance, in the United States, you can choose a domestic plan from either Sprint or T-Mobile and also pick an alternate plan from the other carrier as needed. When you choose AT&T on iPad Air 2 and iPad mini 3, AT&T dedicates Apple SIM to their network only.
AT&T appears to be the only participating carrier that is locking the Apple SIM to its network. T-Mobile's John Legere has indicated that T-Mobile's process does not lock a customer in to T-Mobile, which appears to be confirmed by Apple's support document, and Sprint's process also seems to leave the Apple SIM unlocked and able to be used with other carrier plans. Verizon, the fourth major carrier in the United States, did not opt to allow the Apple SIM to work with its network.
According to the Apple support document, when an Apple SIM becomes locked to a specific network like AT&T, purchasing a new Apple SIM from an Apple Retail store will allow an iPad to be usable with other carrier programs.
Apple introduced its universal SIM alongside the iPad Air 2 and Retina iPad mini 3 on October 16. It is the first SIM provided by Apple that is designed to work across multiple carriers.
Update 12:10 PM PT: An AT&T spokesperson confirmed to Re/code that AT&T customers who use the Apple SIM with AT&T will need a different SIM card to switch carriers.
"With us you can change carriers with this iPad any time you want," he said. "It is an unlocked device. ... All [you] have to do is switch out the SIM in the device so it works on another carrier."
AT&T did not explain why it opted to lock the SIM card to its network, however, with the spokesperson saying "it's just simply the way we've chosen to do it."