Third-Party Vendor Beats Apple to Market With Reversible Lightning USB Cables
Amid rumors that Apple is developing a Lightning cable with a reversible USB connector, third-party accessory vendor Truffol has begun selling a reversible USB Lightning cable on its website, beating Apple to the punch.
Priced at $9.99, the reversible cable advertised by Truffol is designed to be inserted into a USB port in either direction, a shift from a traditional USB cable that can only be inserted in one direction. While the cable is not Apple-approved and thus not Made for iPhone (MFi) certified, Truffol has told MacRumors that its cable works with both existing iOS devices and the upcoming iPhone 6. Using non-certified third-party iPhone accessories is not recommended by Apple, however, and in the past, some third-party accessories have caused damage to iOS devices.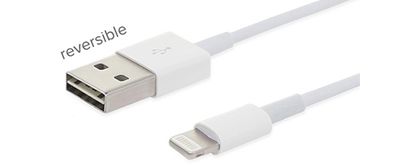 It is not clear whether these third-party reversible USB Lightning cables were already in development ahead of the rumors suggesting Apple was developing its own reversible solution or if they were designed in response to rumors, but their sudden availability may possibly hint at the existence of an Apple-branded reversible cable. Truffol told MacRumors that it believes the idea for the third-party reversible Lightning cables originated from "insider Apple sources."
Rumors of an Apple-branded Lightning cable with a reversible USB connector first surfaced last week in the form of leaked images and videos, but Apple initially filed a patent application for the technology in January 2014, which became public in late July.
Video depicting alleged Apple Lightning cable with reversible USB connector
Apple may face some legal hurdles if it launches a reversible Lightning USB cable. A California company named UltraTek
holds a patent
for a reversible USB connector and already sells reversible USB cables through a number of different online retailers, but it is possible Apple has licensed the technology or developed a solution that is different enough not to infringe on UltraTek's existing technology.
A second Apple patent filing that was published earlier this week suggests Apple has indeed improved on current reversible USB connector designs, as it details a cable with a flexible internal connector. Described as a flexible "tongue," Apple's design would allow a USB connector to flex to fit into any existing USB port regardless of insertion orientation. The flexible design may be superior to existing reversible USB designs because it allows for a thicker, sturdier middle "stalk" and a stronger connection with contacts.
It is possible that Apple's rumored Lightning cable with a reversible USB connector might debut as soon as September, introduced alongside the iPhone 6 that's expected to be unveiled at a September 9 media event.